Les 8 week 4
DmiProtocols < Dmi. What are the ethical guidelines for blog and buzz mining? One of the topics I have been working on today for the book is the area of blog and buzz mining.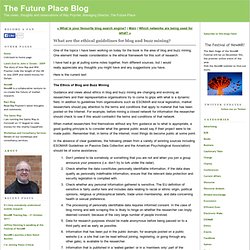 One element that needs consideration is the ethical framework for this sort of research. I have had a go at pulling some notes together, from different sources, but I would really appreciate any thoughts you might have and any suggestions you have. Here is the current text The Ethics of Blog and Buzz Mining Guidance and views about ethics in blog and buzz mining are changing and evolving as researchers and their reprepsentative organisations try to come to grips with what is a dynamic field. News: Blog Mining Gets Real. Like unstructured content captured on Web forms that never really gets used, blogs' explosive growth is generating raw data sets that your company really can't afford to ignore.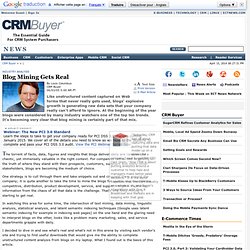 At the beginning of the year blogs were considered by many industry watchers one of the top ten trends. It's becoming very clear that blog mining is certainly part of that mix. Webinar: The New PCI 3.0 Standard Learn the steps to take to get your company ready for PCI DSS 3.0 changes coming January 2015. Analysing the web: Blog mining. Social Media Manager vs. Community Manager. As social media continues to develop, so do the roles within it.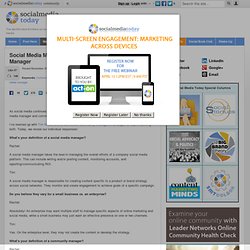 Among these are the roles of social media manager and community manager. I've teamed up with Tim McDonald, a well-known community manager in Chicago, to help in defining both. Today, we reveal our individual responses! What's your definition of a social media manager? Rachel:
---