Interessante linkjes
Report: Social Media and News. Last year I was commissioned to write a report on 'Social Media and News' for the Open Society Media Program, as part of the 'Mapping Digital Media' series.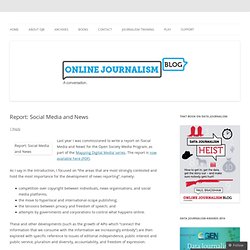 The report is now available here (PDF). As I say in the introduction, I focused on "the areas that are most strongly contested and hold the most importance for the development of news reporting", namely: competition over copyright between individuals, news organisations, and social media platforms;the move to hyperlocal and international-scope publishing;the tensions between privacy and freedom of speech; andattempts by governments and corporations to control what happens online. How Journalists Are Using Facebook Subscribe. Seven ways the New York Times is using social media for 'deeper' engagement | Online Journalism Features.
Liz Heron, social media editor of the New York Times on seven ways the news outlet is getting 'deep and meaningful' Liz Heron advises making use of features such as Facebook Subscribe to allow journalists to share updates When Liz Heron, social media editor of the New York Times delivered the keynote speech at Journalism.co.uk's news:rewired conference, she explained how 2010 was the year her team were playing the role of "evangeliser", 2011 was "a watershed year for social media in our newsrooms" due to the Arab spring and other major news events, and that 2012 is the year when the New York Times is trying to make its "social media projects deeper and more meaningful'' with users.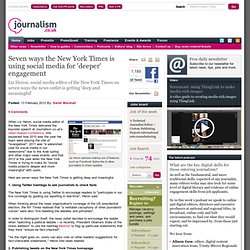 Here are seven ways the New York Times is getting deep and meaningful. 1. Using Twitter hashtags to ask journalists to check facts. Eindelijk bewijs: meer sociale interactie leidt tot hogere merkbetrokkenheid. Facebook Search. Tool of the week: Facebook Search What is it?
A tool that allows you to search Facebook without logging in. Facebook lessons: from Paul Bradshaw and PageLever. Yesterday Paul Bradshaw shared his experience of running a blog entirely through a Facebook Page for four weeks, offering his thoughts on the month-long project in a post back on his Online Journalism Blog.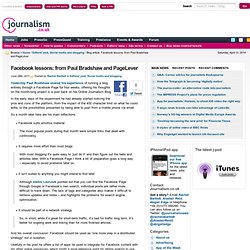 In the early days of the experiment he had already started noticing the pros and cons of the platform, from the impact of the 400 character limit on what he could write, to the possibilities presented by being able to post from a mobile phone via email. So a month later here are his main reflections: Facebook suits emotive material The most popular posts during that month were simple links that dealt with controversy. It requires more effort than most blogs. Vadim Lavrusik: 10 ways journalists can use Facebook | Online Journalism Features. Vadim Lavrusik, who has previously worked at Mashable and the New York Times, has been Facebook's journalist programme manager for one year Facebook's New York-based journalism programme manager Vadim Lavrusik is on a three-countries-in-three-days tour of Europe.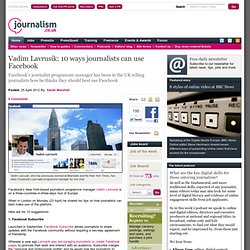 When in London on Monday (23 April) he shared his tips on how journalists can best make use of the platform. How Social Media Is Taking Over the News Industry [INFOGRAPHIC] More than ever, people are using Twitter, Facebook and other social media sources to learn about what's happening in the world as traditional news outlets become increasingly less relevant to the digital generation.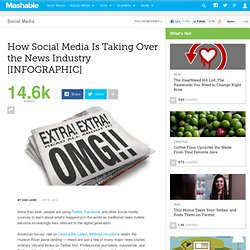 American forces' raid on Osama Bin Laden, Whitney Houston's death, the Hudson River plane landing — these are just a few of many major news stories ordinary citizens broke on Twitter first. Professional journalists, meanwhile, use Twitter all the time to break news quickly before writing up full articles. Journalistiek & Fotografie. An evangelical blogger is spending 12 months following the Bible's instructions for women—and she's doing it for egalitarian reasons. Before Easter this year, Rachel Held Evans camped out for the weekend in a purple tent she had set up in her Tennessee yard.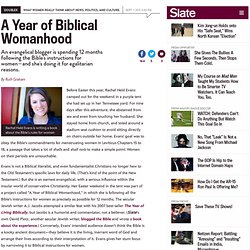 For nine days after this adventure, she abstained from sex and even from touching her husband. She stayed home from church, and toted around a stadium seat cushion to avoid sitting directly on chairs outside her home. Evans' goal was to obey the Bible's commandments for menstruating women in Leviticus Chapters 15 to 18, a passage that takes a lot of shalls and shall nots to make a simple point: Women on their periods are untouchable. Evans is not a Biblical literalist, and even fundamentalist Christians no longer hew to the Old Testament's specific laws for daily life. Blog-journalistiek verdient erkenning. Mogen we af en toe ook eens wat zelfonderzoek plegen?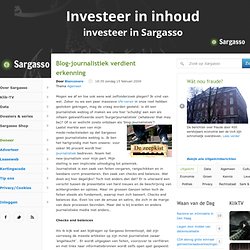 Ik vind van wel. Zeker nu we een paar massieve VN-veren in onze reet hebben gestoken gekregen, mag de vraag worden gesteld: is dit een journalistiek weblog of maken we ons hier 'schuldig' aan een als infaam gekwalificeerde soort 'burgerjournalistiek' (whatever that may be)? Of is er wellicht zoiets ontstaan als 'blog-journalistiek'? 5 Tips for Creating a More Engaging Facebook Fan Page. The addition of the "People Talking About" metric on Facebook should have brands thinking more about engagement on fan pages and increase focus on actually delivering more content, more updates and giving fans a reason to come back to the page.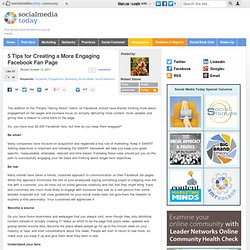 So, you have your 20,000 Facebook fans, but how do you keep them engaged? Be smart. Opinion Mining, Sentiment Analysis, Opinion Extraction. Opinion Mining, Sentiment Analysis, and Opinion Spam Detection Feature-Based Opinion Mining and Summarization (or Aspect-Based Sentiment Analysis and Summarization) Detecting Fake ReviewsOpinion Lexicon ---- Datasets for Download ---- Talks ---- Publications (Media coverage: The New York Times, The Economist, BusinessWeek and more ... ) New Book: Sentiment Analysis and Opinion Mining (Introduction and Survey), Morgan & Claypool, May 2012.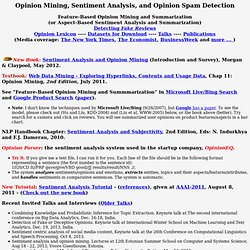 All that Fits: The Aesthetics of Journalism. Adam Broomberg and Oliver Chanarin, Chicago #10 While i was in Nottingham for the Making Future Work events, i decided to take the bus to Derby and check out All that Fits: The Aesthetics of Journalism at QUAD. The exhibition postulates that art and journalism are two sides of a unique activity; the production and distribution of images and information. Whereas journalism provides a view on the world, as it 'really' is, art often presents a view on the view, as an act of reflection.
The first part of the exhibition title, All that Fits, points directly to the New York Times' moto "All the News That's Fit to Print. " It asks us to think about what becomes of the information that doesn't fit into the format or the agenda of a media outlet. Special Report: The Future Of News. Visualization Options. Try XLfit for your curve fitting today! Visualizing Data at the Oxford Internet Institute. The Best Tools for Visualization. Visualization is a technique to graphically represent sets of data. When data is large or abstract, visualization can help make the data easier to read or understand.
There are visualization tools for search, music, networks, online communities, and almost anything else you can think of. Whether you want a desktop application or a web-based tool, there are many specific tools are available on the web that let you visualize all kinds of data. Here are some of the best: Visualize Social Networks. Twitter and TV Get Close to Help Each Other Grow. How To Set Up Facebook Subscribe For Journalists. When Facebook launched its Subscribe feature in mid-September, quite a few journalists sighed in relief. This, we thought, is what we needed: A way to communicate with a larger audience of readers while maintaining a somewhat private personal life behind a friend wall.
I'm sure it's a great option to other professionals, celebrities and wannabe celebrities as well. I enabled subscriptions the day they launched, mostly to test it out. After all, who would be interested in reading the occasionally inane updates of a non-famous non-reporter? More than 9,000 subscribers later, I found out. Taking a look in the mirror: how the US mainstream media uses Twitter. It's a matter of fact that Twitter has become part of the regular news workflow. And this is also the case for mainstream media outlets. But how do they really use it? And how often? What's their underlying strategy? Man vs. Machine: what's what with social media analytics. Robot crowd control. No, it's not its not the title of a new disaster movie starring Will Smith.
It's CrowdControl, a start-up, lauched today, which aims to judge the accuracy of crowd-sourced information using artificial intelligence technology. Programs to work out how people are feeling on social media already exist, but they are based on algorhythms that often don't work very well. Newspapers on social networks: who's most visible in the UK? CNN's just-revamped iReport: Imagine all the data! You Publish. RegioHack in beeld | Jerry Vermanen. Twitter, the conversation-enabler? Actually, most news orgs use the service as a glorified RSS feed.
What Journalists Can Learn From Bloggers. Nieuwssite gaat volledig over op Facebook: wie volgt? | webjournalisten.nl. Citizen Journalism | Brainstuck.com. What should we do about sexist abuse online? | The panel. Facebook Failures - Facebook Failures. Amazing Infocharts: How The World Shares Via Social Media. Facebook 'Talking About' Deconstructed. How are the top brands performing? Study shows the new Facebook newsfeed impacts negatively on small Facebook Pages. Two important changes coming to Facebook Comments. The Editors: Updated social media guidance for BBC journalists.
---