Crowdsourcing
Crowdsourcing. Crowdsourcing is the practice of obtaining needed services, ideas, or content by soliciting contributions from a large group of people, and especially from an online community, rather than from traditional employees or suppliers.[1] This process is often used to subdivide tedious work or to fund-raise startup companies and charities, and can also occur offline.[2] It combines the efforts of numerous self-identified volunteers or part-time workers, where each contributor of their own initiative adds a small portion to the greater result.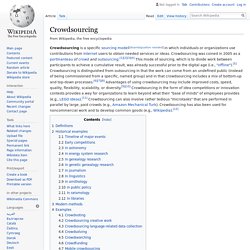 The term "crowdsourcing" is a portmanteau of "crowd" and "outsourcing"; it is distinguished from outsourcing in that the work comes from an undefined public rather than being commissioned from a specific, named group. Wiki's Waarheid. Google of Wikipedia?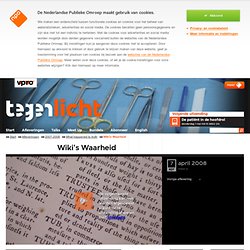 Wie zoekt op internet - en wie doet dat niet? - wordt steeds vaker verwezen naar Wikipedia. Doctor Crowdsourcing. Afgelopen donderdag promoveerde Irma Borst op haar proefschrift "Understanding Crowdsourcing; The effects of motivation and rewards on performance in voluntary online activities", aan de Erasmus Universiteit van Rotterdam.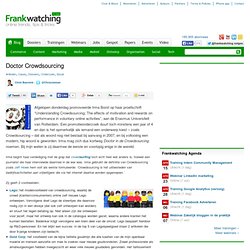 Een promotieonderzoek duurt toch minstens een jaar of 4 en dan is het opmerkelijk als iemand een onderwerp kiest – zoals Crowdsourcing – dat als woord nog niet bestaat bij aanvang in 2007, en bij voltooiing een modern, hip woord is geworden. Irma mag zich dus kortweg Doctor in de Crowdsourcing noemen. Bij mijn weten is zij daarmee de eerste en voorlopig enige in de wereld. Irma begint haar verdediging met de grap dat crowdsurfing toch echt heel wat anders is, hoewel een journalist die haar interviewde daarmee in de war was. 38 :: Crowdsourcing for dummies. Erwin Blom is oprichter van The Crowds, een organisatie gespecialiseerd in social media.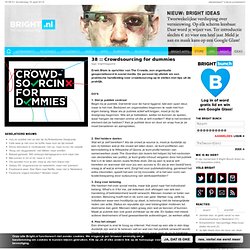 De persoon bij uitstek om een praktische handleiding voor crowdsourcing op te stellen met tips uit de praktijk. 1. Stel je publiek centraalBegin bij je publiek. Dat klinkt voor de hand liggend, lijkt een open deur, maar is het niet. List of crowdsourcing projects. Below is a list of projects that rely on crowdsourcing.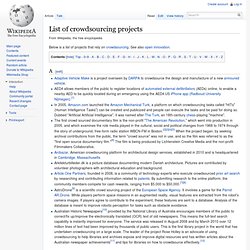 See also open innovation. A[edit] Adaptive Vehicle Make is a project overseen by DARPA to crowdsource the design and manufacture of a new armoured vehicle.AED4 allows members of the public to register locations of automated external defibrillators (AEDs) online, to enable a nearby AED to be quickly located during an emergency using the AED4.US iPhone app (Radboud University Nijmegen).[1]In 2005, Amazon.com launched the Amazon Mechanical Turk, a platform on which crowdsourcing tasks called "HITs" (Human Intelligence Tasks") can be created and publicized and people can execute the tasks and be paid for doing so. Wired 14.06: The Rise of Crowdsourcing. Remember outsourcing?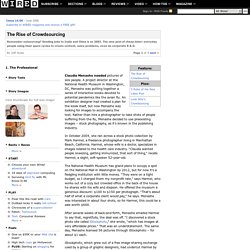 Sending jobs to India and China is so 2003. The new pool of cheap labor: everyday people using their spare cycles to create content, solve problems, even do corporate R & D. By Jeff HowePage 1 of 4 next » 1. Logo Design, Web Design and More. Design Done Differently | 99designs.com. Film, deel en kijk evenementen /  Film It Yourself. De Nederlandse Publieke Omroep maakt gebruik van cookies.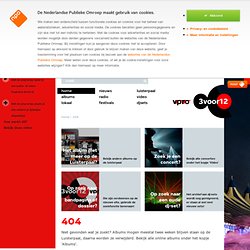 We maken een onderscheid tussen functionele cookies en cookies voor het beheer van webstatistieken, advertenties en social media. De cookies bevatten geen persoonsgegevens en zijn dus niet tot een individu te herleiden. Met de cookies voor advertenties en social media worden mogelijk door derden gegevens verzameld buiten de websites van de Nederlandse Publieke Omroep. Bij instellingen kun je aangeven deze cookies niet te accepteren. Kaarten, E-cards en Echte Kaarten Versturen - Boomerang. Jeff Howe - Crowdsourcing.
---