Crowdsourcing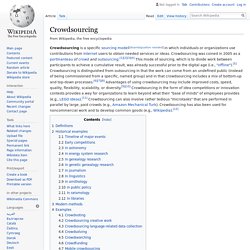 Crowdsourcing is the practice of obtaining needed services, ideas, or content by soliciting contributions from a large group of people, and especially from an online community, rather than from traditional employees or suppliers. Often used to subdivide tedious work or to fund-raise startup companies and charities, this process can occur both online and offline. [ 1 ] The general concept is to combine the efforts of crowds of volunteers or part-time workers, where each one could contribute a small portion, which adds into a relatively large or significant result. Crowdsourcing is different from an ordinary outsourcing since it is a task or problem that is outsourced to an undefined public rather than to a specific, named group.
De Publieke Omroep is wettelijk verplicht toestemming te vragen voor het gebruik van cookies. Als je deze eenmalig accepteert, dan zijn alle websites van de Publieke Omroep te bezoeken. Wij maken gebruik van functionele cookies en cookies voor het beheer van webstatistieken, advertenties en social media.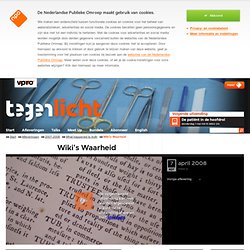 Wiki's Waarheid
Afgelopen donderdag promoveerde Irma Borst op haar proefschrift "Understanding Crowdsourcing; The effects of motivation and rewards on performance in voluntary online activities", aan de Erasmus Universiteit van Rotterdam. Een promotieonderzoek duurt toch minstens een jaar of 4 en dan is het opmerkelijk als iemand een onderwerp kiest – zoals Crowdsourcing – dat als woord nog niet bestaat bij aanvang in 2007, en bij voltooiing een modern, hip woord is geworden. Irma mag zich dus kortweg Doctor in de Crowdsourcing noemen. Bij mijn weten is zij daarmee de eerste en voorlopig enige in de wereld. Irma begint haar verdediging met de grap dat crowd surfing toch echt heel wat anders is, hoewel een journalist die haar interviewde daarmee in de war was.
Doctor Crowdsourcing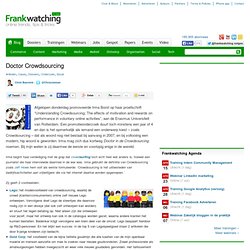 38 :: Crowdsourcing for dummies
Erwin Blom is oprichter van The Crowds, een organisatie gespecialiseerd in social media. De persoon bij uitstek om een praktische handleiding voor crowdsourcing op te stellen met tips uit de praktijk. 1. Stel je publiek centraal Begin bij je publiek. Dat klinkt voor de hand liggend, lijkt een open deur, maar is het niet.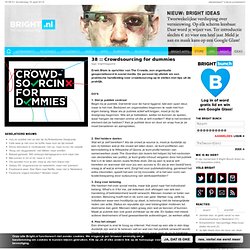 Below is a list of projects that rely on crowdsourcing . See also open innovation . [ edit ] A Adaptive Vehicle Make is a project overseen by DARPA to crowdsource the design and manufacture of a new armoured vehicle .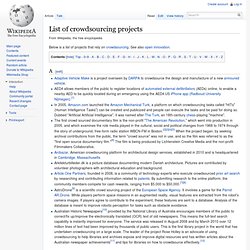 Film, deel en kijk evenementen /  Film It Yourself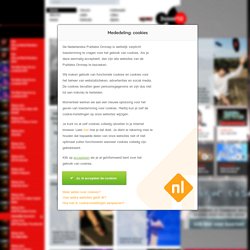 De Publieke Omroep is wettelijk verplicht toestemming te vragen voor het gebruik van cookies.
Kaarten, E-cards en Echte Kaarten Versturen - Boomerang