Technology
Best practices may not be best for your organisation. If your organisation puts time and effort into implementing best practise HR methods, such as ability testing, it must be reassuring to to know it all pays off in the end.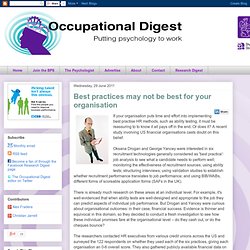 Or does it? A recent study involving US financial organisations casts doubt on this belief. Oksana Drogan and George Yancey were interested in six recruitment technologies generally considered as 'best practice': job analysis to see what a candidate needs to perform well; monitoring the effectiveness of recruitment sources; using ability tests; structuring interviews; using validation studies to establish whether recruitment performance translates to job performance; and using BIB/WABs, different forms of scoreable application forms (SAFs in the UK).
There is already much research on these areas at an individual level. The Binding Uncertainty of the Present. [Translations: Japanese] "Prediction is very hard, especially of the future," said Yogi Berra.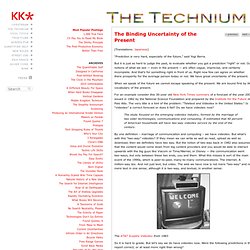 But it is just as hard to judge the past, to evaluate whether you got a prediction "right" or not. Our notions of what we see — even in the present — are often vague, imprecise, and certainly incomplete. The Org Charts Of All The Major Tech Companies (Humor)
---