Education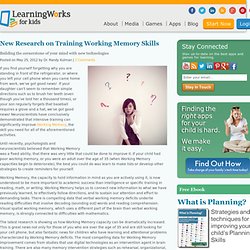 New Research on Training Working Memory Skills | LearningWorks for Kids
Building the cornerstone of your mind with new technologies If you find yourself forgetting why you are standing in front of the refrigerator, or where you left your cell phone when you came home from work, we've got good news! If your daughter can't seem to remember simple directions such as to brush her teeth (even though you've told her a thousand times), or your son regularly forgets that baseball requires a glove and a hat, we've got good news! Neuroscientists have conclusively demonstrated that intensive training can significantly improve Working Memory, the skill you need for all of the aforementioned activities. Until recently, psychologists and neuroscientists believed that Working Memory was a fixed ability, that there was very little that could be done to improve it.
What a List!! 136 Interactive Educational Games By Subject Area
What kid doesn't like a game? Here's a great way to support your lesson plans without losing your audience. Interactive games allow students to play, learn and interact with the game while having fun. Can't beat that, right? GeoGame- interactive geography game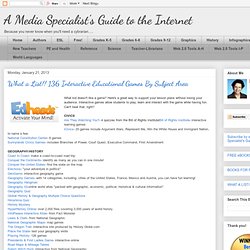 Classroom time is then used for answering student questions, helping with homework, and other activities that help students apply what they've learned. While there are some obvious drawbacks to this method, more and more teachers are trying it out. Many have found it to be quite successful in improving student grades and comprehension, though many caution it's not right for every teacher or every classroom. Whether you love the idea or think it's crazy, it's definitely worth learning more about. Check out these stories of schools, from elementary to college , who have given flipped classrooms a go, often with amazing results. It may motivate you to try it yourself or might open your mind to the new possibilities tech offers educators.
12 Brain Rules
SMARTeacher - Math Software for Kids | SMARTeacher
Have you ever been frustrated while trying to learn something new? If you are like the rest of us, the process became infinitely harder after getting upset. It's natural, we are human after all and as humans, emotions play a critical role in the learning process. Emotions have an impact on education, arguably, more than any other component. They can determine how driven a student is towards school, or how removed from the learning experience they could become.
Emotion Based Teaching Meets Artificial Intelligence
Pinterest is quickly becoming one of the biggest sources inspiration and innovation when it comes to cooking, design, and education. That's right, education is a prominent fixture on Pinterest now and that, of course, means that education technology plays a starring role. In an effort to help curate the massive amount of Pinterest boards about education technology, you can use the following list as a jumping off point to start your Pinterest journey. The following boards are curated by teachers, admins, and other education enthusiasts.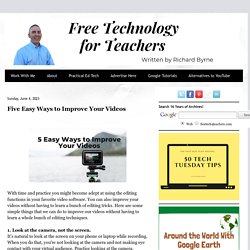 This is a guest post from Samantha Morra of EdTechTeacher.org, an advertiser on Free Technology for Teachers. Many of us using technology in the classroom find ourselves caught between two worlds: Apple and Google. Apple's iPad is a fantastic tool in the classroom which provides students with various opportunities to consume, create, and communicate. Similar to a swiss-army knife, it is only limited by how we choose to use it.
Foldables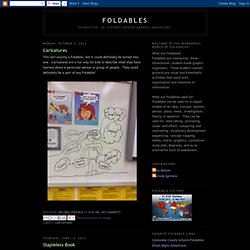 Teachers and staff from BCPS will participate in a 3-hour Foldables workshop on October 14, 2008. This Make-It, Take-It style workshop will allow participants to make multiple Foldables of various styles. From folded books and shutter folds to four-door books, tab folds, and three-quarter books, teachers and staff will leave with an arsenal of Foldables and ideas for use with students at their own schools. Participants are sure to enjoy a fun afternoon of making their own Foldables. In order to earn 7 recertification points, participants need to verify their use a Foldable. First, post a comment on the Foldables blog that includes how you used a Foldable with your students.
School Newspaper Advisers: 17 Websites For Student Photographers
A New Year and Decade: A Stronger Teacher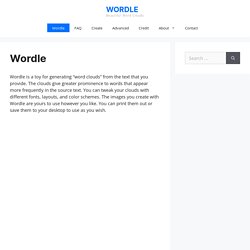 Wordle is a toy for generating "word clouds" from text that you provide. The clouds give greater prominence to words that appear more frequently in the source text. You can tweak your clouds with different fonts, layouts, and color schemes. The images you create with Wordle are yours to use however you like. You can print them out, or save them to the Wordle gallery to share with your friends. Create your own.
iHomeEducator®, Inc. Blog