Entrepreneurship
Cole and Parker - Socks that Start Businesses Short Summary Zucano focuses on making everyday traveling more enjoyable by turning it into a social experience. Many of us spend long hours sitting in an airplane, riding the subway to work, or taking a ferry to join our favorite vacation destination. Zucano wants to turn this usually boring and uneventful experience into an opportunity to meet new people, catch up with old friends, and learn something new. The concept was developed by a group of young entrepreneurs that spent many hours on the road and were looking for a way to make it more entertaining and rewarding.
Zucano - Happily choose your travel mate!
Create a Killer Business Plan - Martha Stewart Community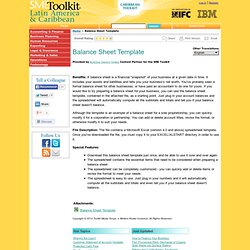 Balance Sheet Template | SME Toolkit Latin America
Provided by Business Owner's Toolkit, Content Partner for the SME Toolkit Benefits: A balance sheet is a financial "snapshot" of your business at a given date in time.