Photoshop
Learn How to Knit - 288 Knitting Instructions and Knitting for Beginners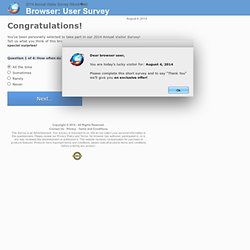 Redirecting... We have over 234,500 members from Canada on our site who are ONLY looking for casual dating encounters. It is extremely likely that you will see a profile of someone you know. It may be a secretary from your office.
Tutorials
Fresh High Quality Photoshop Tutorials from 2011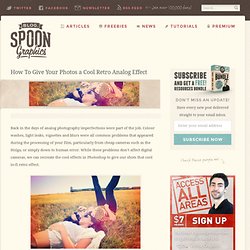 Back in the days of analog photography imperfections were part of the job. Colour washes, light leaks, vignettes and blurs were all common problems that appeared during the processing of your film, particularly from cheap cameras such as the Holga, or simply down to human error. While these problems don't affect digital cameras, we can recreate the cool effects in Photoshop to give our shots that cool lo-fi retro effect. View large scale photograph You don't have to look far before finding quality examples of old style analog photography.
Doing anything in Adobe Illustrator really does take two times longer as it can be a little tricky to get your hands around. In the following tutorial you will learn how to create a zippo lighter in Adobe Illustrator. For starters you will use basic tools (Rectangle, Ellipse, Pen tools)... Doing anything in Adobe Illustrator really does take two times longer as it can be a little tricky to get your hands around. Because of more steps, hidden features, and a long list of tools it is really strange at first hand. In this tutorial you will learn how to...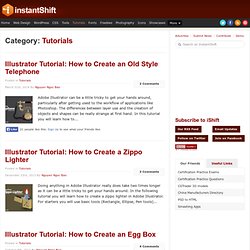 Creating an impressive web design for a social-driven cause is a huge responsibility. If done right, the website will bring contributions which will enrich the lives of many. A successful charity website will need to provide its users information about what charity they will be donating to. It will have to get donors involved in the process and thus ensure that they do donate money for the right cause.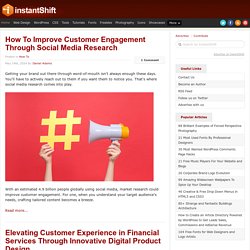 PSDVIBE – Tutorials and Resources
10 free and fresh graphic resources for webdesigners Every webdesigner I know loves free and fresh graphic resources to help creating beautiful websites. This is why I'm very happy to share 10 hand picked freebies with you today. 20 Awesome HTML5 templates at only $19!
Photo Effect - Page 2
35 Handy Social Media Icon Sets
(Photo Effects - Tutorials) Photo manipulation is at the very core of digital art. It teaches us about composition, blending, complex workflows and many other aspects of being a top designer. Today's design lesson will teach you how to photo manipulate a fantasy flaming warrior using a range of professional techniques.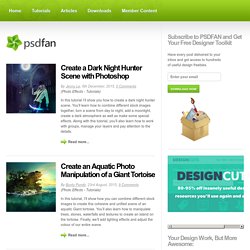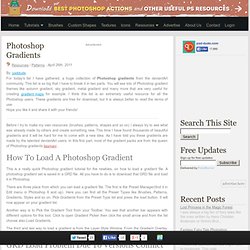 Photoshop Gradients | www.psd-dude.com
Resources / Patterns , April 26th, 2011 For today's list I have gathered, a huge collection of Photoshop gradients from the deviantArt community. This list is so big that I have to break it in two parts.
Welcome to Photoshop Essentials.com, where anyone can learn Photoshop! We offer tutorials you won't find anywhere else, with easy to follow, step-by-step training on everything from Photoshop Basics to photo editing and retouching, photo effects, text effects, and more, and it's all written with beginners in mind. You'll be amazed at what you can do with Photoshop in no time at all! Our latest tutorials are listed below.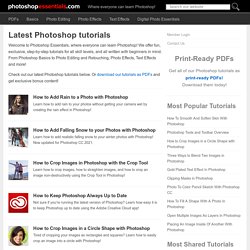 Create A Scrapbook Alphabet In this Photoshop Text Effect you'll learn to create a simple Scrapbook style text effect that can be used as a stand alone word treatment or converted to individual reusable .png files with a transparent background. Create A 3D Push Pin In this Photoshop tutorial I'll show you how to create a 3D Push Pin using Photoshop Extended's 3D drawing and rendering capabilities. Put your 3D glasses on and enjoy the show! Modern 3D Text Effect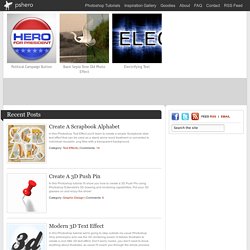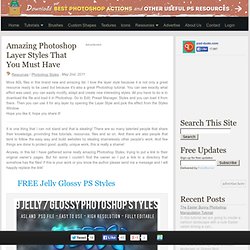 Amazing Photoshop Layer Styles That You Must Have | www.psd-dude.com
Resources / Photoshop Styles , May 2nd, 2011 More ASL files in this brand new and amazing list. I love the layer style because it is not only a great resource ready to be used but because it's also a great Photoshop tutorial. You can see exactly what effect was used, you can easily modify, adapt and create new interesting styles. All you have to do is to download the file and load it in Photoshop. Go to Edit, Preset Manager, Styles and you can load it from there.