Facebook
Defending Your Privacy: Is Twitter More Secure Than Facebook? [INFOGRAPHIC]
MinorMonitor: Protect Your Children By Monitoring Their Facebook Activity
You can't swing a stick in social media without hitting something on Facebook . Same goes for education . You can't talk about how technology is revolutionizing education without mentioning Facebook.
Every Teacher's Must-Have Guide To Facebook
Security on Facebook - How to Have a Safe & Pleasant Experience | Windows 7 Tutorials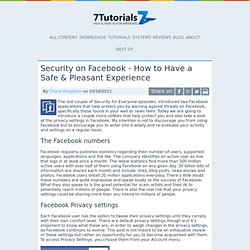 The last couple of Security for Everyone episodes, introduced two Facebook applications that help protect you by warning against threats on Facebook, specifically those found in your wall or news feed. Today we are going to introduce a couple more utilities that help protect you and also take a look at the privacy settings in Facebook. My intention is not to discourage you from using Facebook but to encourage you to enter into it wisely and re-evaluate your activity and settings on a regular basis. The Facebook numbers Facebook regularly publishes statistics regarding their number of users, supported languages, applications and the like.
Using Facebook in the Classroom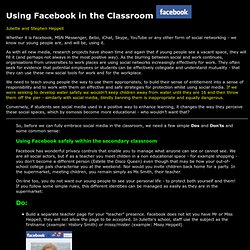 Juliette and Stephen Heppell Whether it is Facebook, MSN Messenger, Bebo, iChat, Skype, YouTube or any other form of social networking - we know our young people are, and will be, using it. As with all new media, research projects have shown time and again that if young people see a vacant space, they will fill it (and perhaps not always in the most positive way). As the blurring between social and work continues, organisations from universities to work places are using social networks increasingly effectively for work. They often seek for evidence that potential employees or students can be effectively collegiate and understand mutuality - that they can use these new social tools for work and for the workplace. We need to teach young people the way to use them appropriately, to build their sense of entitlement into a sense of responsibility and to work with them on effective and safe strategies for protection whilst using social media.
For Those Facebook Left Behind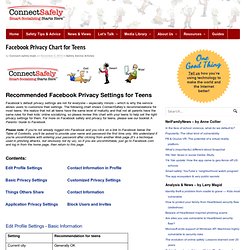 Facebook's default privacy settings are not for everyone – especially minors – which is why the service allows users to customize their settings. The following chart shows ConnectSafely's recommendations for most teens. We realize that not all teens have the same level of maturity and that not all parents have the same rules for their kids' online socializing, so please review this chart with your teens to help set the right privacy settings for them. For more on Facebook safety and privacy for teens, please see our booklet A Parents' Guide to Facebook.
20 awesome Facebook new tips and tricks : A Virtual Exit
With everybody and their moms being on Facebook these days, we felt it's time to highlight 20 new FB tips that you might not be aware of. Without further ado, lets get started with the best Facebook tricks of 2011! #1 Enable HTTPS for better security If you access Facebook frequently from public wi-fi hotspots, or even your college network, you will be surprised to know that it's extremely easy for others to snoop on your Facebook data. To avoid this, you should turn on the secure HTTPS option of Facebook right now.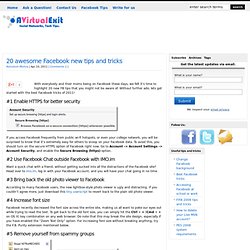 Using Facebook in the Classroom
First week sales figures provided by Microsoft, courtesy of unnamed retailers, put sales of Grand Theft Auto IV at 60% for the Xbox 360 version, 40% for the PlayStation 3 version. A win, undoubtedly, for Microsoft. N'Gai Croal of Level Up got his hands on some GameStop-only sales data, which puts the percentage more accurately at 64% on the Microsoft side, 36% on the Sony side. Argh! Not accurate enough, for our tastes!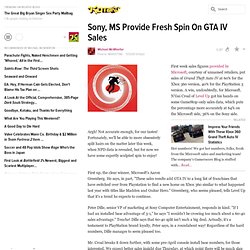 Facebook 'Delete' Can Take 16 Embarrassing Months
Facebook: Five things to avoid
16 June 2011Last updated at 01:57 By Marie Jackson BBC News Joanne Fraill, the juror who contacted a defendant on Facebook, is facing a spell in jail for contempt of court when she is sentenced later on Thursday. She has learned the hard way, but for the rest of us there are some essential "don'ts" if you want to stay out of trouble on Facebook. Don't... Men attracted to amputees befriended Charlotte Fielder Add as a friend?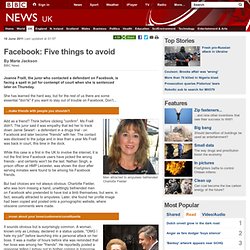 764_YHGfL_Guide_to_Using_Facebook_Safely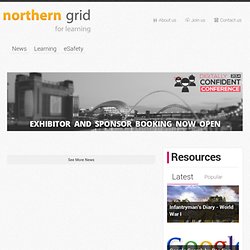 The essential CPD event of the year is back again, serving teachers and leaders from across the region and beyond. Improving learner outcomes, making more effective use of resources and funding and inspiring teachers to be the best that they can be are the core values of the Digitally Confident conference. Only the most respected and valued members of the UK's education sector are invited to lead the fast paced, information and ideas rich workshops designed to ensure teachers and leaders from all key stages gain maximum benefit from this important and trusted event. Who should attend?