eLearning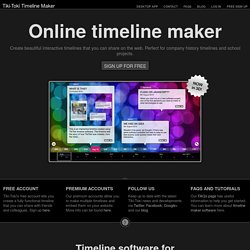 Why use Tiki-Toki? There are loads of timeline makers out there.What's so special about Tiki-Toki? Nothing to download Tiki-Toki works in your browser.
Little Book of Superb Sites
Create an eBook using free software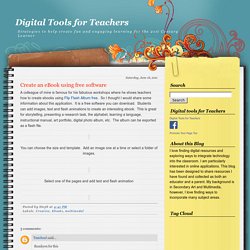 A colleague of mine is famous for his fabulous workshops where he shows teachers how to create ebooks using Flip Flash Album free. So I thought I would share some information about this application. It is a free software you can download.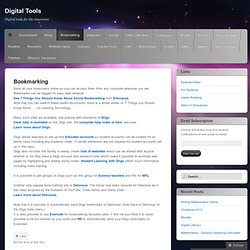 Save all your bookmarks online so you can access them from any computer wherever you are. Bookmarks can be tagged for easy later retrieval.See 7 Things You Should Know About Social Bookmarking from Educause. Note that you can search these useful documents, there is a whole series of '7 Things you Should Know About …' on Learning Technology. Many such sites are available, one popular with educators is Diigo.Clear help is available on the Diigo site, the complete help index is here, also see:Learn more about Diigo. Diigo allows teachers to set up free Educator accounts so student accounts can be created for an entire class including any students under 13 (email addresses are not required for student accounts set up in this way).
Bookmarking « Digital Tools
See the synthesis report providing an overview of the programme and lessons learnt1 See the summary report providing an overview of approaches to evaluation across the programme1 See all the outputs from this programme at the Design Studio2 This programme has now completed. The final reports from each project are available from the individual project pages3
Transforming curriculum delivery through technology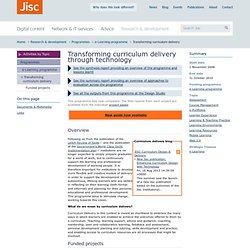 Smartboard tips and tricks
5 Signs a Teacher is Ready for New Technology {technology in education, technology implementation, edtech}
Empowering Young Learners; Stephen Heppell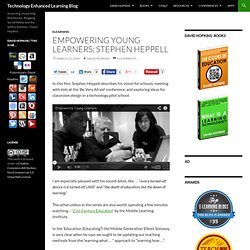 In this film, Stephen Heppell describes his vision for schools, meeting with kids at the 'Be Very Afraid' conference, and exploring ideas for classroom design in a technology pilot school. I am especially pleased with his sound-bites, like … "every turned-off device is a turned-off child" and "the death of education, but the dawn of learning." The other videos in the series are also worth spending a few minutes watching – '21st Century Education' by the Mobile Learning Institute. In the 'Education (Educating?)