Computer games design
Infographics
Entertainment Computing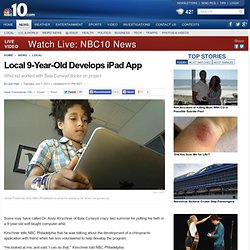 Local 9-Year-Old Develops iPad App
Jillian Mele Jesse Friedman tells NBC Philadelphia what he wants to be when he grows up. 9-Year-Old Whiz Kid Has Big Plans
Making A Simple Pong Game in Scratch‬‏
iPhone App Builder, Android App Builder, Windows App Builder
Kinect Fun Labs – Free Interactive Gadgets For Your Kinect & Xbox 360
There's only a few of these gadgets available at the moment, though Microsoft intends to keep adding new activities and mini games including the upcoming Avatar Kinect, a 3D chat innovation that can read facial expressions (and doesn't require you to stand up!). Kinect Fun Labs is downloadable from the 360′s in-built Marketplace and accessed via the Kinect Hub, so make sure you've plugged in your all-seeing-eye before you try and play. Download & Play You can grab Kinect Fun Labs from the Xbox Marketplace, either through the console or a web interface.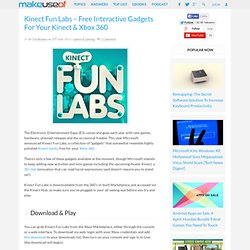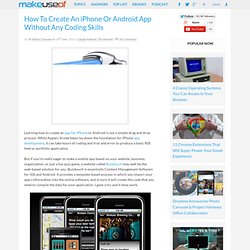 But if you're really eager to make a mobile app based on your website, business, organization, or just a fun quiz game, a website called Buzztouch may well be the web-based solution for you. Buzztouch is essentially Content Management Software for iOS and Android. It provides a template-based process in which you import your app's information into the online software, and in turn it will create the code that you need to compile the data for your application. I gave a try and it does work. How to Create an App – What You Need
The Math in Video Games
Video Game Math Video game graphics is all about geometry. Geometric shapes and interactions between geometric shapes is the basic foundation of all videos games. Video games rely on the extensive use of circles, squares, ovals, rectangles, trapezoids, and many other geometric shapes to form shapes you see on your computer or TV screen as you play video games. Basic Geometry One of the basic geometric concepts you learn in school is the use is recognition of two dimensional and three dimensional objects, along with how to use them in different situations.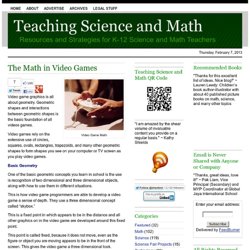 AppPress: Create iOS Applications Without Any Programming [10 Free Accounts]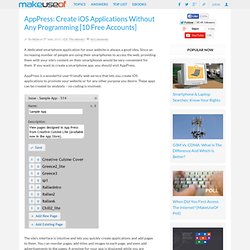 A dedicated smartphone application for your website is always a good idea. Since an increasing number of people are using their smartphones to access the web, providing them with your site's content on their smartphones would be very convenient for them. If you want to create a smartphone app, you should visit AppPress. AppPress is a wonderful user-friendly web service that lets you create iOS applications to promote your website or for any other purpose you desire.
One area that suffers greatly from the lame-factor are free games. Whether you're talking online games or downloading full version PC games, nine times out of ten you end up with a game that has sound and graphics that look like something out of the 1980s, created for Atari or Commodore 64. If I wanted to play old games, I'd download vintage games like Simon previously suggested.
Free Ride Games Offers Full-Version Premium PC Games For Free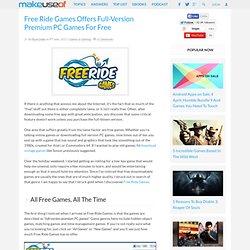 PS Vita / PS3 continuous client gaming with Ruin - Uploaded by engadget
Stencyl: Easy To Use & Free Flash Game Creator
Independent Flash games certainly have an audience – we all try out interesting Flash games we have not heard of before. But creating Flash games is not exactly easy. Writing extremely lengthy code, debugging it, and going back and forth is a very time-consuming process. Here to make matters much easier for Flash game developers is a tool called Stencyl. Stencyl is a desktop application for Windows, Linux, and Mac computers. The desktop lets you build a Flash game by creating the game's atmosphere and dragging the relevant blocks that the game offers.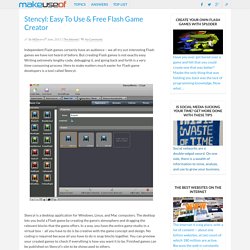 Resources for Students Developing Mobile Apps #edapp « Moving at the Speed of Creativity
I received a tweet last night from Amber Pope , a 7th grade social studies, geography, & civics teacher in Tarrant, Alabama. Amber asked for resource suggestions for students developing iOS / mobile applications in a special summer program she's leading at her school. These are the suggestions I provided! WebKit Open Source Project : This is the tool students at Hong Kong International School used to create an awesome conference application back in September of 2009. More details are available on this archived forum post in the conference Ning . Apparently the HKIS students also used jQTouch :