iPads in Schools
I recently bought with my own money a Google Nexus 7 and have so far spent a week with it. I'm trying my very hardest to be objective and ignore all my previous experiences with Android (which go back to the original Nexus phone). Before I received the Nexus 7, I had expected to like the hardware and hate the software. I thought it would be like test-driving a Citroën car: great design ideas - can't wait until the Germans or Japanese put them in their cars. The reality was a little more subtle.
Thoughts on the Google Nexus 7
The most popular post I have ever written is about the SAMR model which I wrote in March 2010 following the Apple World Leadership Summit in Prague. As this post has been viewed thousands of times since then, I thought I'd repost it because some of the new readers to this blog may not have seen it. This post was originally based on a presentation called Strive for Transformation by Stephanie Hamilton of Apple. This post will form part of a series where I'm looking back at previous popular blog posts.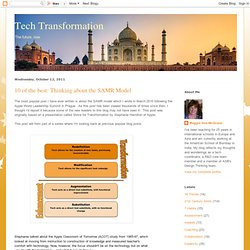 10 of the best: Thinking about the SAMR Model
15 January 2012 Last updated at 12:14 GMT By Philippa Roxby Health reporter, BBC News Technology has completely and utterly changed Veronica's life. "She has gone from being a little girl who had no way of showing us how much she knew, to a little girl who now has a portable device she can laugh, play and engage with," says her mother Sam Rospigliosi, from Edinburgh. "Who knows, she might even use it as her voice in the years ahead if she never learns how to speak again." Veronica is six years old and severely affected by autism. She has significant learning difficulties and finds many social situations very difficult.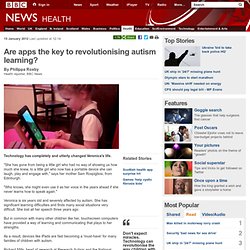 Are apps the key to revolutionising autism learning?
Home | Fraser Speirs
I've recently had the opportunity to email, Skype or visit with many schools interested in the iPad. One theme that keeps cropping up is a misunderstanding of how the iPad wants to be used. I don't say that with any malice or contempt whatsoever. It's just that the iPad is one specific set of design decisions wrapped up in a product and it takes some time to really understand the implication of those decisions. This is doubly true if you don't personally own and live with the iPad yourself but are responsible for "figuring it out" for your school or organisation. It may seem odd, offensive even, to veterans of the PC age to be told what your computing platform "wants".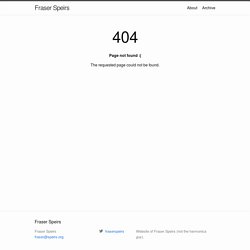 How the iPad Wants to be Used
There was a time when iTunes U was just a section of the iTunes store where you could download audio and videos. Since Apple's recent education event, that's all changed. iTunes U is still a part of the iTunes Store but there's now a dedicated iTunes U app for iOS devices. The other major change to iTunes U was a policy change. iTunes U was previously only available to universities.
Driving the Classroom with iTunes U
A Workable Model for sub-1:1 iPad Use
The iPad is designed to be owned and not shared. It is a personal device . This isn't Apple screwing you over or ripping you off.
Mobile Computing | Spotlight Page 4 of 4 Launching an iPad 1-to-1 Program: A Primer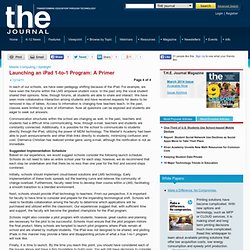 Launching an iPad 1-to-1 Program: A Primer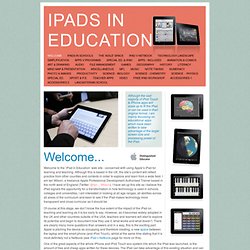 Welcome to the 'iPad in Education' web site - concerned with using Apple's iPad for learning and teaching. Although this is based in the UK, the site's content will reflect practice from other counties and contexts in order to explore and learn from a wide field. I am Ian Wilson, a freelance Apple Professional Development Authorised Trainer based in the north west of England (Twitter: @Ian__Wilson ). I have set up this site as I believe the iPad signals the opportunity for a transformation in how technology is used in schools, colleges and universities.