Quotes
What do people know.
Unique
Quote Book: Best Quotes of All Time. Photo Credit: BigStockPhoto.com It's been three years since we shared our original list of some of the best quotes of all time, and we felt it was a good time for an update.
We've added another 25 quotes for you. Life. Good Quotations by Famous people. Quote O' The Week : Ideas - household name : : : blog. After a while you learn… - Goodmorning & Goodnight. 4:37pm | Jan 30th, 2010 "After a while you learn the subtle difference between holding a hand and chaining a soul, and you learn that love doesn't mean leaning and company doesn't mean security, and you begin to learn that kisses aren't contracts and presents aren't promises, and you begin to accept your defeats with your head up and your eyes open, with the grace of an adult, not the grief of a child, and you learn to build all your roads on today because tomorrow's ground is too uncertain for plans.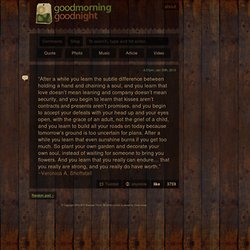 After a while you learn that even sunshine burns if you get too much. So plant your own garden and decorate your own soul, instead of waiting for someone to bring you flowers.
Intellect
Sarcastic Sayings About Life. Sarcasm is an obscure form of humor that needs an acquired taste to appreciate.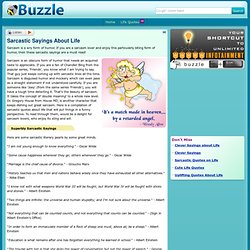 If you are a fan of Chandler Bing from the popular series, 'Friends', you know what I am trying to say. That guy just keeps coming up with sarcastic lines all the time. Atheism.
---