Life
Inspirational
I need a good life qoute. The purpose of life is a life of purpose.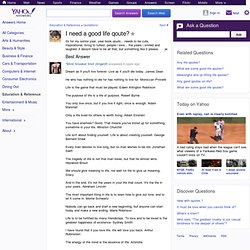 ~Robert Byrne Life isn't measured by the number of breaths we take, but by the number of moments life takes our breath away. The greatest glory is not in never falling but in rising up every time we fall. Life is the sum of all your choices. Life's journey is not to arrive at the grave safely in a well preserved body, but rather to skid in sideways, totally worn out, shouting "what a ride! ". Sarcasm and Cynicism.
How to Flourish: 17 Quotes On Living, Being, and Doing. I'll step out of the way and let the quotes speak for themselves: "Fall seven times; stand up eight." – Japanese proverb (click to tweet) "You must give up the life you planned in order to have the life that is waiting for you." – Joseph Campbell (click to tweet)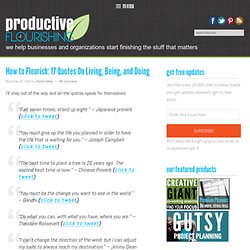 Zen Quotes.