Mobiles
Phone Arena - Phone News, Reviews and Specs. GSMArena.com - GSM phone reviews, news, opinions, votes, manuals and more... Business Insider: Mobile. MOBILE - Bits Blog. Jim Wilson/The New York TimesSteven P.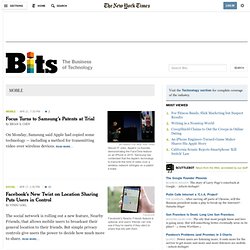 Jobs, Apple's co-founder, demonstrating the FaceTime feature on an iPhone in 2010. Samsung has contended that the Apple's technology to transmit this kind of video over a wireless network infringes on a patent it holds. On Monday, Samsung said Apple had copied some technology — including a method for transmitting video over wireless devices.
Read more… Technology Photos and Pictures. Mobile & Telecom. Gadget Reviews - The Washington Post Gadget reviews.
---