Mobiles
Mobile Visits To Popular Sites By Device – CHART. Broken down by mobile device, ShareThis found that smartphones were more than twice as popular as tablets for mobile pinning, and the latter actually trailed desktops by 2 percentage points.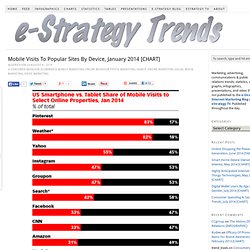 The fact that smartphones were the device of choice for mobile pinning suggests that mobility—not size—matters more for Pinterest users. Similarly, January 2014 research by Luth Research for ExactTarget found that smartphones grabbed the overwhelming share of mobile visits to Pinterest in the US, at 83%, vs. 17% from tablets. In fact, no other online property studied saw a bigger gap between the two devices. Phone Arena - Phone News, Reviews and Specs. GSMArena.com - GSM phone reviews, news, opinions, votes, manuals and more... Business Insider: Mobile. MOBILE - Bits Blog. Jim Wilson/The New York TimesSteven P.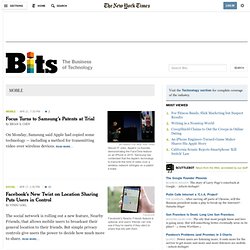 Jobs, Apple's co-founder, demonstrating the FaceTime feature on an iPhone in 2010. Samsung has contended that the Apple's technology to transmit this kind of video over a wireless network infringes on a patent it holds. On Monday, Samsung said Apple had copied some technology — including a method for transmitting video over wireless devices.
Read more… Technology Photos and Pictures. Mobile & Telecom. Gadget Reviews - The Washington Post Gadget reviews.
---