Misc
MakeUseOf
Notepad++
The Benjamin Franklin Effect and why you need to quit your job before it's too late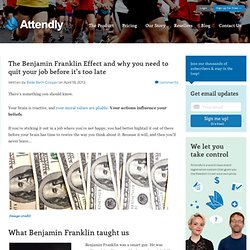 The Benjamin Franklin Effect and why you need to quit your job before it's too late There's something you should know. Your brain is reactive, and your moral values are pliable. Your actions influence your beliefs.
BrainDump
Bare Bones Software | TextWrangler
TextWrangler TextWrangler is the "little brother" to BBEdit, our leading professional HTML and text editor for the Macintosh. TextWrangler vs. BBEdit TextWrangler is a very capable text editor.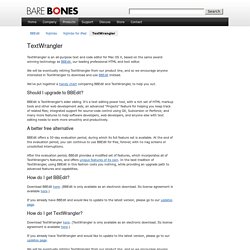 Espresso - The Web Editor
popurls® | the genuine news aggregator for the latest web buzz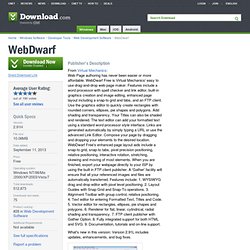 5.0 stars "Does Exactly what it says!" January 13, 2012 | By roxannej77 Version: WebDwarf 2.91L ProsEasy to use.Fast.Does what it claims.Rich online community for compatible templates and add-ins (siteSpinner)Easy enough to create new, or customize existing templates for future use.Great WYSIWYG interface. Renders true.Fast Easy Preview of page.Uses newer <div> tag and <css> formats.(instead of <table> which older WYSIWYG interfaces tend to favor)Creates very clean html code.Great for quick page creation or when working with client to finesse location of elements.Allows code inserts, opening this program up for HTML5 or any gadget that you wish to incorporate.Save project files for future work.Template editing very easy.Click to open element interface... very usable.Free ConsWould be nice if it...Could open existing html pages.Create templates from existing webpage.Built in templates pretty mediocre.
WebDwarf - Free software downloads and software reviews
TabSite - No more FBML! Customize your Facebook Page
Feed Informer: Mix, convert, and republish feeds
Games For Your Site | UltimateArcade
Webmaster Freebies - Free Macromedia Flash Animated Banner Downloads