Samuelbausson
samuel bausson
webmaster les Champs Libres Rennes (avant : Museum de Toulouse)<br>co-fondateur Museomix (museomix.org) : People Make Museums
Loca Margarita sur Twitter : "Genial! Godard en 3 min. "@lesinrocks: [InrocksTV] Godard résumé par des objets en 3 minutes.
[idees] socio (...)
Culture numerique - commons - usages - modèles écos. Methodos alternatives - innovations ouvertes - Freinet. Community building - groups orga - flatOrg - holocracy. Labos - Tiers-lieux. [methodo] Design - prototyper - personna - mapping. LOD semantique opendata wikipedia opensource.
GLAMs strategies positionnements
Online stuff. Dispositifs. Ateliers creatifs. Reseaux sociaux - conversations - branding. [feedback] museomix. Divers - achats - à voir - à faire. Orga perso. Outils.
Projets temp. Images. 3D printed book of bas relief from Art Institute of Chicago. Tom Burtonwood sez, "I have just published Folium, a 3D printed book of bas relief from the Art Institute of Chicago; it's posted to thingiverse for download: 12 pages, 9 scans featuring works of art spanning over 2000 years, from the Ancient Egyptians to Louis Sullivan department store decorations.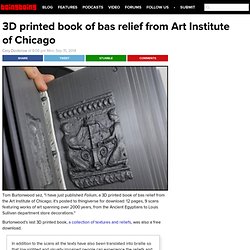 " Burtonwood's last 3D printed book, a collection of textures and reliefs, was also a free download. In addition to the scans all the texts have also been translated into braille so that low sighted and visually impaired people can experience the reliefs and identify what they are.
---
Francois Nov 19 2009

Oui, c'est prévu, mais pas pour tout de suite, tout de suite... Ca devrait venir dans les premiers mois de 2010.

samuelbausson Nov 19 2009

bonjour ! Pearltress est super (j'aime bien ce type de présentations et j'utilise parfois Personnal Brain) mais je suis sur Diigo et j'attend que l'import soit possible...c'est prévu ?

Francois Nov 19 2009

Bonjour SAmuel, bienvenue dans Pearltrees.
---