Voyage
Breather is like an Airbnb by the hour. If you are in New York or Montreal and need a place to work, chill-out, or engage in an activity you'd like to perform behind closed doors, check out Breather.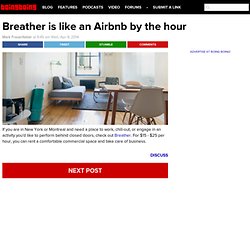 For $15 - $25 per hour, you can rent a comfortable commercial space and take care of business. David Pescovitz at 9:40 am Wed, Apr 9, 2014 On Saturday (April 12), the excellent Pravic science fiction 'zine will hold its second live extravaganza in San Francisco. I'm honored that I've been added to the amazing bill featuring talks by two of my own big influences -- SF legend Rudy Rucker and Erik Davis, author of Techgnosis and co-host of the Expanding Mind podcast.
David Pescovitz at 9:27 am Wed, Apr 9, 2014.
Resto
Wikitude - Maintain. Time Out Worldwide - Your Guide to the Best Things to do in the World's Greatest Cities including London and New York. Triposo - know where to go. Personalized Travel Recommendations | Online Travel Guide | Travel Tips | TripSay.com. Guides de voyage gratuits à écouter - Tourisme France et Monde | Zevisit. Video de voyage gratuite, point d'interet & visite de monument - Navigaia. Guide de voyage – votre guide de voyage. Le top 10 des reseaux sociaux du Voyage | Webcom Consulting.
Guides de Voyage Android, iPhone & iPod Touch | Guides mTrip. ViaMichelin Voyage: Des milliers de destinations dans le monde, sites touristiques, restaurants et hôtels pour préparer son voyage. Tourist Eye - Social Mobile Travel Guide for iPhone and Android. Free Travel Guide | City Guide | Guide Book - Guidepal.com.