Mac
Free!!! for a limited time only!!! "Photoshop Touch vs. Laminar – which is better?"
Appsfire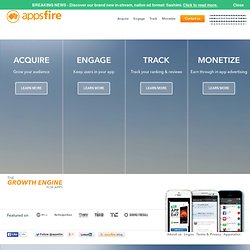 AppStream - Read, write and discuss about App News and App Deals
Lion Tweaks 2.0 | Developer Fredrik Wiker - Mountain Tweaks and Lion Tweaks
5 stars on Macworld Editors Lion Tweaks is the best and most popular tweaking tool for Lion. This is a powerful, but yet very simple application that will allow you to change the new annoying features in Mac OS X 10.7 or 10.8. What you can change: Show/Hide the user Library folder. Change to a 2D or 3D dock.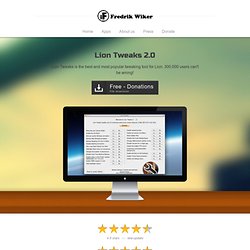 My GeekTool Desktop — What Blag?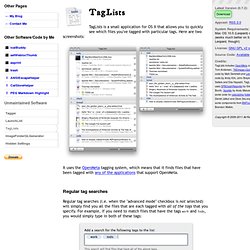 TagLists
TagLists is a small application for OS X that allows you to quickly see which files you've tagged with particular tags. Here are two screenshots: It uses the OpenMeta tagging system, which means that it finds files that have been tagged with any of the applications that support OpenMeta. Regular tag searches Regular tag searches (i.e. when the "advanced mode" checkbox is not selected) will simply find you all the files that are each tagged with all of the tags that you specify.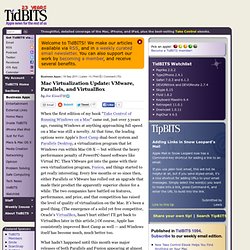 When the first edition of my book " Take Control of Running Windows on a Mac " came out, just over 5 years ago, running Windows at anything approaching full speed on a Mac was still a novelty. At that time, the leading options were Apple's Boot Camp dual-boot system and Parallels Desktop , a virtualization program that let Windows run within Mac OS X — but without the heavy performance penalty of PowerPC-based software like Virtual PC. Then VMware got into the game with their own virtualization program, Fusion , and things started to get really interesting. Every few months or so since then, either Parallels or VMware has rolled out an upgrade that made their product the apparently superior choice for a while.
Business Apps: Mac Virtualization Update: VMware, Parallels, and VirtualBox
This article aims to give an overall description of various strategies on time trials of software. Its findings are mostly applicable for Mac OS X (Snow Leopard), but some findings are general for other Unices and unix-like systems (Linux). A basic knowledge of Mac (or some other unix or unix-like) system is required. It is not intended to encourage somebody to repeatedly reset the trial period in purpose to use the commercial software without payment, hence no hints for concrete software are included.
Time trials hacking « Tomáš Pěnička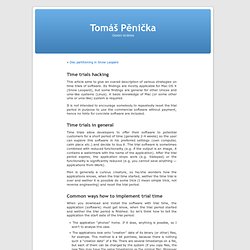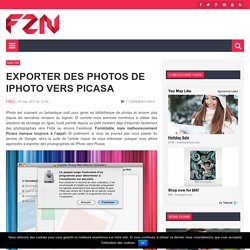 iPhoto est vraiment un fantastique outil pour gérer sa bibliothèque de photos et encore plus depuis les dernières versions du logiciel. Et comme nous sommes nombreux à utiliser des solutions de stockage en ligne, l'outil permet depuis un petit moment déjà d'exporter facilement des photographies vers Flickr ou encore Facebook. Formidable, mais malheureusement Picasa manque toujours à l'appel. Et justement, si vous ne pouvez pas vous passer du service de Google, alors la suite de l'article risque de vous intéresser puisque nous allons apprendre à exporter des photographies de iPhoto vers Picasa. En réalité, cette solution est vraiment très simple à mettre en place.
Exporter des photos de iPhoto vers Picasa
Login | Soluto
Wineskin, Play your favorite Windows games on Mac OS X without needing Microsoft Windows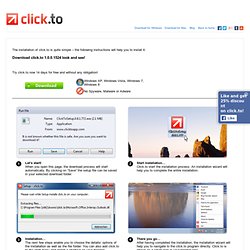 The installation of click.to is quite simple – the following instructions will help you to install it: Download click.to 0.9.8.1418 look and see! Try click.to now for free and without any obligation!
Click.to - Installation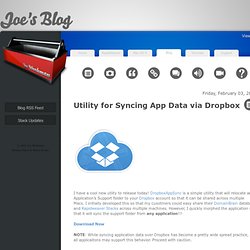 I have a cool new utlity to release today! DropboxAppSync is a simple utility that will relocate any Application's Support folder to your Dropbox account so that it can be shared across multiple Macs. I initially developed this so that my cusotmers could easy share their DomainBrain database and Rapidweaver Stacks across multiple machines.
Joe's Blog on Development and Life
Fink - Home
Afficher les fichiers et dossiers cachés sous Mac OS X - Laboratoire SUPINFO des technologies Apple
Search for the page again by clicking the Refresh button. The timeout may have occurred due to Internet congestion. Check that you typed the Web page address correctly.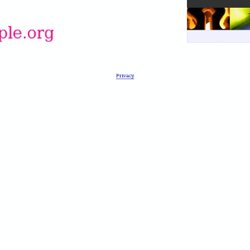 Ironic Software
Overview Remote Desktop Connection Client for Mac 2.1.1 lets you connect from your Macintosh computer to a Windows-based computer or to multiple Windows-based computers at the same time. After you have connected, you can work with applications and files on the Windows-based computer. Note Microsoft Remote Desktop Connection Client for Mac (version 2.1.1) is not intended for use with Mac OS X v10.7 (Lion) or later. To learn about what's new in Remote Desktop Connection Client for Mac 2.1.1, please visit the Microsoft Web site .
Download details: Microsoft Remote Desktop Connection Client for Mac 2.1.1