Creativity
Daft Punk : l'universalité, pour le pire et pour le meilleur
Compte-tenu de sa longueur, le texte est téléchargeable en PDF ici afin d'en simplifier la lecture . * L'inégalité comme mode de fonctionnement * Les trois premiers albums de Daft Punk suscitaient la même interrogation, celle de l'irrégularité, de l'incapacité à développer des concepts forts sur plus de trois, quatre chansons par disque, et Homework , Discovery & Human After All apparaissaient comme un entrelacement déstabilisant entre des morceaux intelligents, particulièrement jouissifs, à la production clinquante et aux micro-rebondissement nombreux, et des boucles, s'étalant sur quatre minutes, fondées simplement sur une idée / un sample qui auraient méritées d'être mieux exploitées, et non d'être balancées comme ça, comme on pose rapidement une pensée sur le papier de peur de la perdre.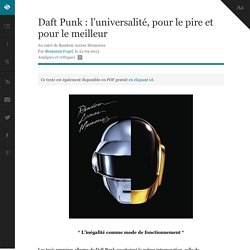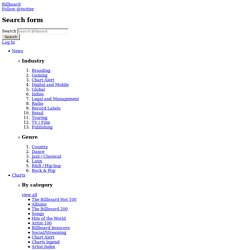 It started with a Facebook post: Two helmets, one gold and one silver, halved and fused down the center, set against plain black. Then came the 15-second ad, aired during the March 2 episode of "Saturday Night Live"; its first appearance online was through an excited fan's YouTube video of his TV screen. With each viral salvo, it was clear all bets were off: reclusive electronic music icons Daft Punk were releasing a new album -- eventually revealed as Random Access Memories -- and nothing about how it came to be would prove traditional, in the process unleashing one of the most tactical and innovative marketing campaigns in music business history.
Daft Punk's 'Random Access Memories': A Timeline of the Global Teaser Campaign
Berkeley en Californie, vous l'aurez compris, berceau de la contestation américaine dans les années 60, ville aux mille contre-révolutions... Je suis à la rencontre C2-MTL sur la créativité et le commerce et c'est moi qui tiens à échanger sur Montréal et sur le mouvement étudiant avec quelques participants, parce que contrairement à ce qui se discute dans à peu près tous les autres salons de Montréal, le sujet du jour n'y est pas du tout la fronde du moment. Arianna Huffington du Huffington Post, Michael Eisner ex-PDG de Walt Disney, le cinéaste Francis Ford Coppola et autres célébrités viennent de défiler au micro ou s'apprêtent à le faire pour parler plutôt de comment ils ont su traduire la créativité en occasion d'affaires.
La rue et la créativité | Marie-Claude Lortie | Marie-Claude Lortie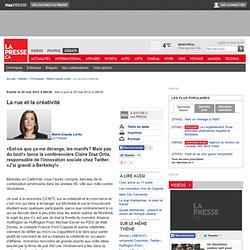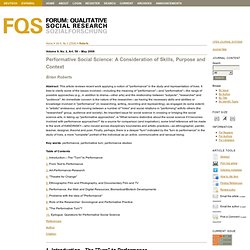 Performative Social Science: A Consideration of Skills, Purpose and Context | Roberts
Volume 9 , No. 2 , Art. 58 – May 2008 Performative Social Science: A Consideration of Skills, Purpose and Context Brian Roberts
André Helbo (dir.), Performance et savoirs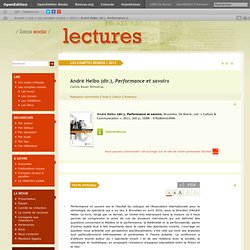 1 Performance et savoirs est le résultat du colloque de l'Association internationale pour la sémiologie du spectacle qui a eu lieu à Bruxelles en avril 2010, sous la direction d'André Helbo.
Georges Perec et la contrainte, vidéo Georges Perec et la contrainte, vidéo Art et Culture Littérature - Archives vidéos Art et Culture Littérature
Des grands groupes industriels s'intéressent aux "fab labs", ces mini-usines collaboratives, citoyennes, ouvertes à tous et permettant de créer ou de fabriquer des objets à la demande. Avec quelques arrières-pensées. Les industriels des télécoms, de l'énergie et de la grande distribution lorgnent du côté des fab lab ( fabrication laboratory ), c'est-à-dire un lieu citoyen ou universitaire, non lucratif, dédié aux fabrications d'objets à la demande.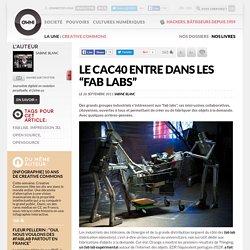 Polaroid and Apple: Innovation Through Mental Invention
Steve Jobs admits to few idols. But one is Edwin Land, the college dropout who invented the polarizing filters used in everything from car headlights to sunglasses. Land, of course, also invented the Polaroid Land Camera. It happened like this: One time when Land and his three-year-old daughter were in New Mexico, she asked why she couldn't immediately see a photograph that he had snapped. He took a short walk through the desert, pondering that question. By the time he had returned (and it was no more than an hour, he recalled), he had visualized the elements of the instant camera.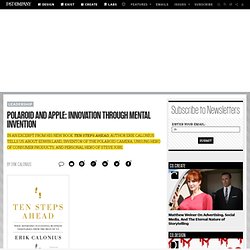 David Kelley on Designing Curious Employees
Design thinking is a process of empathizing with the end user. Its principal guru is David Kelley, founder of IDEO and the Hasso Plattner Institute of Design at Stanford (otherwise known as the d.school), who takes a similar approach to managing people. He believes leadership is a matter of empathizing with employees. In this interview, he explains why leaders should seek understanding rather than blind obedience, why it's better to be a coach and a taskmaster and why you can't teach leadership with a PowerPoint presentation. Kermit Pattison: How has the design thinking model influenced your approach to leading people?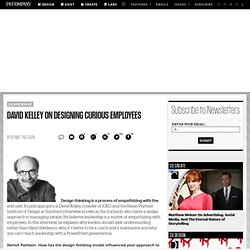 Nathan Myhrvold met Jack Horner on the set of the "Jurassic Park" sequel in 1996.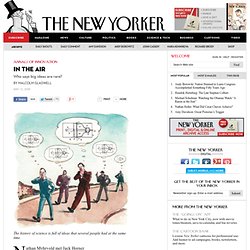 Nathan Myhrvold and collective genius in science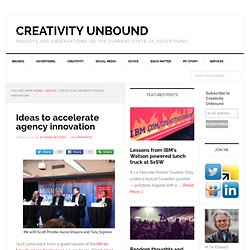 Me with Scott Prindle, Aaron Shapiro and Tony Signore I just came back from a great session at the Mirren New Business Conference. Laurie Coots, TBWA Chiat Day's CMO, no stranger to change and innovation, moderated a panel with CP&B's creative technology lead Scott Prindle, HUGE CEO Aaron Shapiro, Taylor CEO Tony Signore and me.
Ideas to accelerate agency innovation
This is a relentless age we're living in, a time when innovative solutions — or any solutions, for that matter — to our seemingly infinite problems seem in short supply.
Searching for Value in Ludicrous Ideas
This article sketches an assessment of Jon Elster's theory of creativity in the arts, especially in the context of modernism.
Rationality, choice and modernism: Notes on Jon Elster's theory of creativity
Many find it interesting to glimpse inside the lives of famous thinkers in an effort to understand where such thought and intelligence is rooted. In that vein, here is a peek into the routines and rituals that writers, philosophers, and statesmen have depended on to keep their work on track and their thoughts flowing. Whether you need inspiration to make it through the next college semester of your bachelor's degree , finishing up your master's degree program , or are working on a future best-selling novel, explore these daily rituals you may want to incorporate into your life.
25 Famous Thinkers and Their Inspiring Daily Rituals
Searching for Value in Ludicrous Ideas
Herman Wouk Is Still Alive Brenda should be happy.
How Genius Works - The Culture Report