Rational Thinking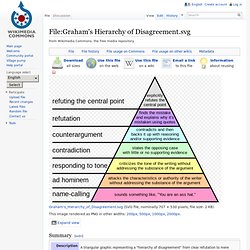 Cancel Edit Delete Preview revert
Graham's Hierarchy of Disagreement.svg - Wikipedia, the free encyclopedia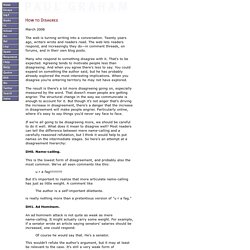 March 2008
Logic (from the Greek λογική, logike)[1] has two meanings: first, it describes the use of valid reasoning in some activity; second, it names the normative study of reasoning or a branch thereof.[2][3] In the latter sense, it features most prominently in the subjects of philosophy, mathematics, and computer science.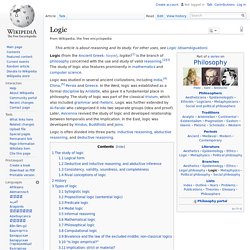 A fallacy is incorrect argument in logic and rhetoric resulting in a lack of validity, or more generally, a lack of soundness.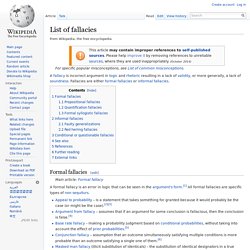 Formal fallacy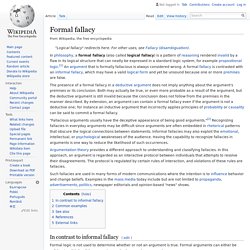 In philosophy, a formal fallacy is a pattern of reasoning that is always wrong. This is due to a flaw in the logical structure of the argument which renders the argument invalid.
Informal logic
Informal logic, intuitively, refers to the principles of logic and logical thought outside of a formal setting.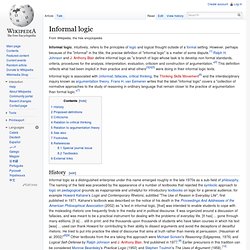 Bias
Bias is an inclination of temperament or outlook to present or hold a partial perspective and a refusal to even consider the possible merits of alternative points of view.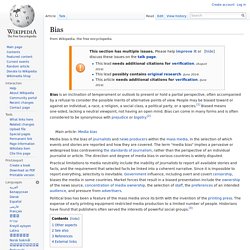 A cognitive bias is a pattern of deviation in judgment, whereby inferences about other people and situations may be drawn in an illogical fashion.[1] Individuals create their own "subjective social reality" from their perception of the input.[2] An individual's construction of social reality, not the objective input, may dictate their behaviour in the social world.[3] Thus, cognitive biases may sometimes lead to perceptual distortion, inaccurate judgment, illogical interpretation, or what is broadly called irrationality.[4][5][6] Some cognitive biases are presumably adaptive.
Cognitive biases are tendencies to think in certain ways.