Sites ressource
SolarPV.TV
PV magazine
PV Parity: Home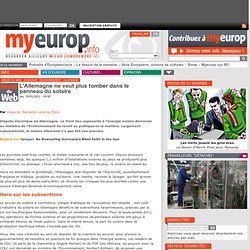 L'Allemagne ne veut plus tomber dans le panneau du solaire
Dispute électrique en Allemagne. Le front des opposants à l'énergie solaire demande au ministre de l'Environnement de revoir sa politique en la matière. Largement subventionné, le solaire allemand n'a pas fait ses preuves. Repéré sur Spiegel: Re-Evaluating Germany's Blind Faith in the Sun Les journées sont trop courtes, la météo mauvaise et le ciel couvert.
:: CASE :: Home ::
Solarplaza | The global solar energy (PV) platform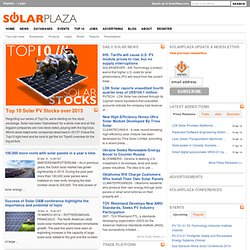 Reigniting our series of Top10s, we're starting on the stock exchange. Solar has been 'mainstream' for a while now and all the biggest companies are now stock-listed, playing with the big boys. Which stock-listed solar companies fared best in 2013?
The industry's leading solar energy information source.
PV Status Report 2011.pdf (Objet application/pdf)
With Vishal Shah as the latest addition to the list of speakers of the 3rd annual The Solar Future South Africa conference, Solarplaza has managed to gather an impressive group of financial expert heavyweights. Combined, these veterans represent decades of experience within the financial side of the renewable energy world. International companies see solar market emerge in Saudi Arabia 03 Dec 13 - 11:35 CET
The global solar energy (PV) platform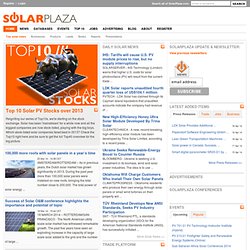 Conveyancing is a legal process linked with transferring ownership of property from a party to another. Since Conveyancing and moving house is a legal process, there are complex terms that you should understand. When you understand the common terms, it will be easier for you to understand the process even if you hire a conveyance solicitor.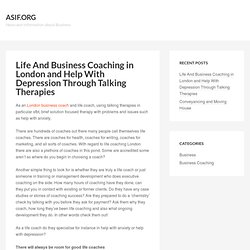 ASIF
AEF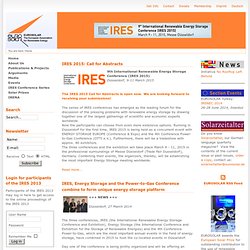 8th International Renewable Energy Storage Conference and Exhibition(IRES 2013)Berlin, bcc Berlin Congress Center November 18-20, 2013 +++ NEW: Selected IRES 2013 papers have been published recently at Elsevier Energy Procedia, Volume 46 +++ +++ NEW: The CD-ROM with the IRES 2013 proceedings is available now +++ Prof.
IRES
Energy Self Reliant States
The following presentation was given by ILSR's Director of Democratic Energy John Farrell at the Electrons on the Run mini-conference in Alexandria, MN, on March 12, 2014. The presentation illustrates how distributed renewable energy in the 21st century fits the rural electric utility philosophy of self-reliance and local economic development, just as providing local electricity… Continue reading Two weeks ago, Minnesota's Public Utilities Commission ratified the first-ever statewide policy for setting a fair and transparent price on solar energy. This week, a coalition of companies that provide leasing contracts for solar to home and business customers declared war on this "value of solar" policy, and pretty much every financial model for compensating… Continue reading In March 2014, Minnesota became the first state to adopt a "value of solar" policy. It may fundamentally change the financial relationship between electric utilities and their energy-producing customers.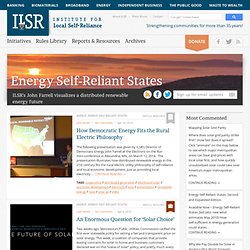 EPIA
Photovoltaique.info est l'outil indispensable pour comprendre les enjeux et les démarches associés au photovoltaïque. Ce centre de ressources documentaires a été mis en place par l'association Hespul avec le concours financier de l'ADEME (Agence de l'environnement et de la maîtrise de l'énergie). Vous pourrez d'une part y puiser les informations utiles pour mieux comprendre ce mode de production d'électricité, d'autre part disposer de l'ensemble des informations nécessaires à la réalisation de projets. Aujourd'hui n'importe qui, personne physique ou personne morale, peut devenir producteur d'électricité et injecter dans le réseau tout ou une partie de sa production. Celle-ci peut sur simple demande, être achetée par EDF ou les "entreprises locales de distribution" d'électricité à un tarif d'achat Tarif d'achat de l'électricité Prix auquel est acheté l'électricité photovoltaïque.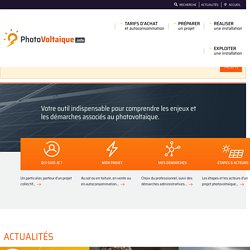 PHOTON International
tecsol
Décidément ce nouveau remaniement ne promet malheureusement, comme c'était à craindre, aucun changement de cap et d'amélioration pour notre politique environnementale… Les gouvernements se succèdent et se ressemblent : l'Ecologie est toujours la grande oubliée… Ainsi, Bertrand Pancher, Député de la Meuse et Responsable du « Pôle Ecologie UDI » dénonce un programme Ecologie réduit, pour ne pas changer, à peau de chagrin. Il n'aura en effet fallu que quelques minutes au Premier Ministre pour « balayer » le dossier de l'Ecologie pourtant primordial dans un contexte climatique plus que préoccupant et alors que Paris est censée se préparer à accueillir la COP 21 en 2015. Le Premier Ministre n'a ainsi fait aucune annonce substantielle en la matière. Il s'est d'abord contenté de reprendre les objectifs de réduction de 30 % de notre consommation d'énergie fossile et de 40 % de nos émissions de gaz à effet de serre d'ici 2030.