Photovoltaïque
Sun Bandit > SunBandit®
By choosing your location, the calculator will determine the amount of hot water produced on average for each available Sun Bandit® Power Package. Select Your State The average household uses about 20 gallons of hot water per person for the first 2 occupants and 15 gallons for each additional occupant per day. Note: The information provided is an estimate based on 280W Modules at a 23 deg tilt facing due South and average irradiance levels.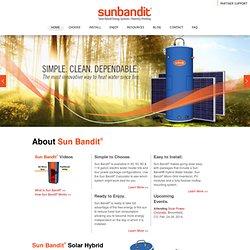 Nextronex – Solar Inverters and Integrated Systems
Alliance for Affordable Solar Energy | AFASE
Ground-mounted Solar Power Plants and PV Roof Systems +++: Home
TRITEC is a photovoltaic system supplier for all components of photovoltaic systems and an international system integrator for solar power plants
L'électricité issue du soleil | Würth Solar: Home
BISOL
Solarvalley Mitteldeutschland - HOME
1366 Technologies
Epices: accueil
1 - Victron Energy
Latest News: Donation to Philippines 2013 Dec 1st To help the Philippines after the devastating typhoon Haiyan on Friday 8 November 2013, Victron Energy donated 60 Solar mobile phone chargers and 60 batteries. The Solar mobile phone charger can charge 20 mobile phones at the same time.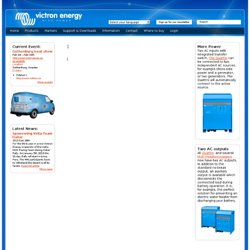 Phocos.com
Energy Trend PV
CorexSolar, systèmes solaires hybrides et photovoltaïques
Evasol
SOLIRA
ENERYO