Photovoltaïque
Sun Bandit > SunBandit® Sun Bandit® is a revolutionary new way in which solar is used to heat water.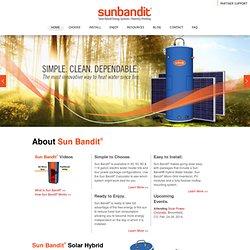 This innovative new technology utilizes PV technology to deliver clean, reliable hot water by putting the free energy of the sun to work for you in ways that makes owning a solar system more practical and affordable than ever before. View the Technical Specifications >> Achieving energy independence has never been easier than with a Sun Bandit® Solar Hybrid Energy System. Nextronex – Solar Inverters and Integrated Systems. Alliance for Affordable Solar Energy | AFASE. Ground-mounted Solar Power Plants and PV Roof Systems +++: Home.
TRITEC is a photovoltaic system supplier for all components of photovoltaic systems and an international system integrator for solar power plants. L'électricité issue du soleil | Würth Solar: Home. BISOL. Solarvalley Mitteldeutschland - HOME. 1366 Technologies. Epices: accueil. Phocos.com. Energy Trend PV. CorexSolar, systèmes solaires hybrides et photovoltaïques. Evasol. SOLIRA. ENERYO.
Divers. Structure. Onduleurs. Modules.
---