Photovoltaïque
Sun Bandit > SunBandit®
Sun Bandit® is a revolutionary new way in which solar is used to heat water. This innovative new technology utilizes PV technology to deliver clean, reliable hot water by putting the free energy of the sun to work for you in ways that makes owning a solar system more practical and affordable than ever before. View the Technical Specifications >> Achieving energy independence has never been easier than with a Sun Bandit® Solar Hybrid Energy System.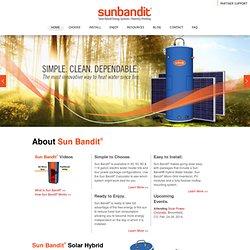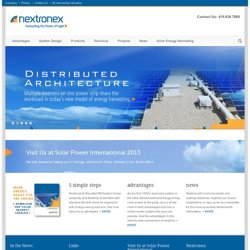 Nextronex – Solar Inverters and Integrated Systems
5 simple steps Nextronex® Ray-MaxTM System brings simplicity and flexibility to the field with standard kits that allow for expansion with energy-saving add-ons. See how easy it is to get started. > MORE
Alliance for Affordable Solar Energy | AFASE
Ground-mounted Solar Power Plants and PV Roof Systems +++: Home
TRITEC is a photovoltaic system supplier for all components of photovoltaic systems and an international system integrator for solar power plants
Trade Fairs Please visit us at the Ineltec 2013 from 10/09 - 13/09/2013 in Basel, or at one of our other trade fairs worldwide . Newsletter
L'électricité issue du soleil | Würth Solar: Home
BISOL
Solarvalley Mitteldeutschland - HOME
1366 Technologies
Le service EPICES à été créé par des producteurs photovoltaïques afin de répondre à plusieurs problématiques liées à l'exploitation et au suivi du bon fonctionnement des systèmes photovoltaïques: Comment évaluer simplement la qualité de fonctionnement d'un système photovoltaïque ? Comment avoir une vision homogène de tout un parc de système malgré la diversité du matériel installé (onduleurs, systèmes d'acquisition) ? Comment faciliter la détection d'anomalie ? EPICES s'adresse aux différents acteurs impliqués dans la mise en œuvre d'installations photovoltaïques : maîtres d'ouvrage, installateurs, coopératives de producteurs, financeurs, institutions...
Epices: accueil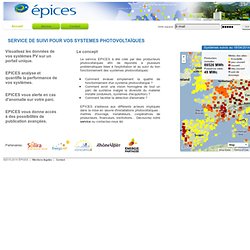 Phocos.com
Energy Trend PV
CorexSolar, systèmes solaires hybrides et photovoltaïques
Evasol
SOLIRA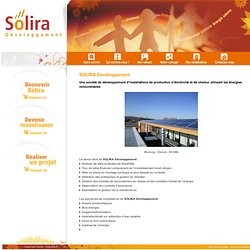 Une société de développement d'installations de production d'électricité et de chaleur utilisant les énergies renouvelables Biocoop - Epone - 60 kWc Le savoir faire de SOLIRA Développement : Analyse de sites et études de faisabilité, Tour de table financier comprenant de l'investissement local citoyen,
Eneryo est une société française qui a pour activité la production d'électricité par utilisation des énergies éolienne et solaire. Eneryo est dirigée par une équipe de professionnels possédant une grande expérience et connaissance du secteur des énergies renouvelables. Eneryo bénéficie de moyens financiers importants qui lui assurent une grande réactivité et une capacité d'investissement lui permettant de promouvoir des projets de grande envergure.
ENERYO