Bricolage
Use Old Bottles to Make Chic Concrete Vases. Got a Kombucha addition?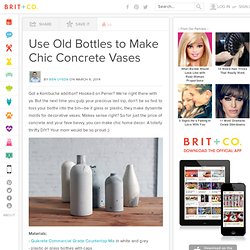 Hooked on Perier? We're right there with ya. But the next time you gulp your precious last sip, don't be so fast to toss your bottle into the bin—be it glass or plastic, they make dynamite molds for decorative vases. Internet of Things - ThingSpeak. Doortop Stash. Pop quiz: What does the top edge of say, your utility closet door look like?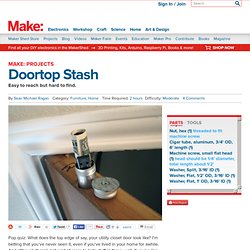 I'm betting that you've never seen it, even if you've lived in your home for awhile. And although there's not a lot of room to hide stuff in there, well, if you're like me, the stuff you want to hide is usually on the smaller side. Not many people think of the space inside the door as a hiding spot, but it's right there in easy reaching distance when you need to get to it. P_secret stash 2010 - yiting cheng. Secret Stash 720 HD from yiting cheng on Vimeo .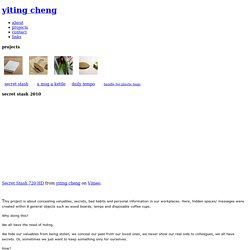 T his project is about concealing valuables, secrets, bad habits and personal information in our workplaces. Here, hidden spaces/ messages were created within 8 general objects such as wood boards, lamps and disposable coffee cups. Why doing this? We all have the need of hiding. MakerBot Industries. iFixit: The free repair manual. The MakerGear Mosaic 3D Printer. Posted by Rick Pollack on June 02, 2011 3 Comments We are very pleased to introduce Mosaic - your desktop 3D printing companion.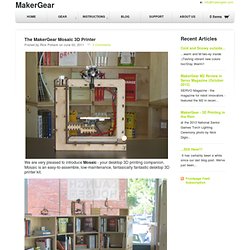 Mosaic is an easy-to-assemble, low-maintenance, fantasically fantastic desktop 3D printer kit. Mosaic features: Easy-to-assemble, laser-cut wooden frame - assemble it using fasteners (screws/nuts) or for a super-rigid, super-easy assembly, just glue it! Eclecticc | by Nirav Patel. Niklas Roy. Mi-Cha-El-La's Adventures in Wonderland. © 2012 Mi Cha El La.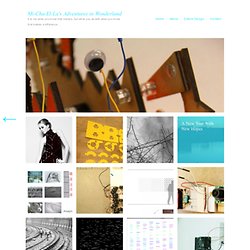 All rights reserved. Marcela Godoy and I are part­ner­ing up. Project Blog. Priorites November 25th, 2012 So I've been tapering off on my projects recently, and i wanted to quickly post to explain that this trend will continue for the forseeable future.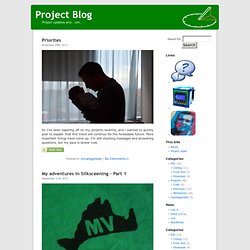 More important things have come up. I'm still checking messages and answering questions, but my pace is slower now.
---