A trier
ETI | Energy Technologies Institute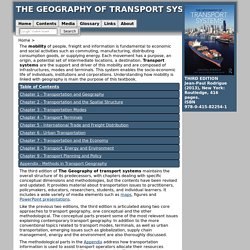 Mobility is fundamental to economic and social activities such as commuting, manufacturing, or supplying energy. Each movement has an origin, a potential set of intermediate locations, a destination, and a nature which is linked with geographical attributes. Transport systems composed of infrastructures, modes and terminals are so embedded in the socio-economic life of individuals, institutions and corporations that they are often invisible to the consumer.
The Geography of Transport Systems
Home: Dii - Bringing the Desertec vision into reality
DOE - National Energy Technology Laboratory: Home Page
ARPA-E: Funding Opportunity Exchange
Smart Grids Projects in Europe
dooApp, Editeur de logiciel pour l'écoconstruction
Electricité, énergie, consommation électrique - Union Française de l'Electricité (UFE)
Ökostrom und Gas - LichtBlick AG
Welcome to ESRU's Web site, home of knowledge and high quality courseware and software for students and practitioners interested in energy efficiency and new and renewable energy systems deployment at both the strategic and urban scale.
Energy Systems Research Unit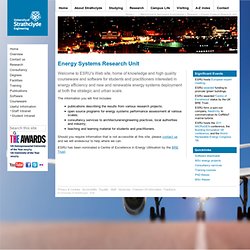 AIE - Carbone
YOUNICOS
ACCIONA Energy
World of Renewables - Renewable Energy News, Events, Companies, Products, Jobs and more