A trier
ETI | Energy Technologies Institute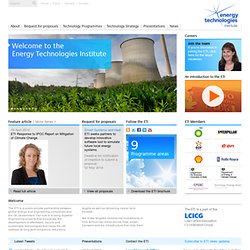 The ETI is a public-private partnership between global energy and engineering companies and the UK Government. Our role is to bring together engineering projects that accelerate the development of affordable, secure and sustainable technologies that helps the UK address its long term emissions reductions targets as well as delivering nearer term benefits. We make targeted commercial investments in nine technology areas across heat, power, transport and the infrastructure that links them.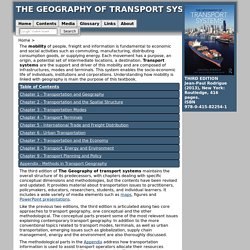 Mobility is fundamental to economic and social activities such as commuting, manufacturing, or supplying energy. Each movement has an origin, a potential set of intermediate locations, a destination, and a nature which is linked with geographical attributes. Transport systems composed of infrastructures, modes and terminals are so embedded in the socio-economic life of individuals, institutions and corporations that they are often invisible to the consumer.
The Geography of Transport Systems
Home: Dii - Bringing the Desertec vision into reality
DOE - National Energy Technology Laboratory: Home Page
In July 2013, the Advanced Research Projects Agency Energy (ARPA-E) intends to issue a Funding Opportunity Announcement (FOA) entitled Full-spectrum Optimized Conversion and Utilization of Sunlight (FOCUS). The anticipated objective of the FOCUS FOA will be to identify transformational concepts for solar energy systems with both high solar conversion efficiency and high energy dispatchability. Two specific areas of interest are: (1) solar energy collectors that efficiently capture exergy over the entire solar spectrum to provide BOTH heat and electricity; and (2) energy storage using BOTH heat and electricity as inputs, with electricity as the output.
ARPA-E: Funding Opportunity Exchange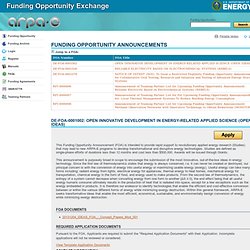 Page Content Welcome to the Smart Grids Projects Portal, a joint initiative by European electricity association EURELECTRIC and the European Commission's Joint Research Centre (EC JRC). Europe's electricity grids are getting smarter. This site aims to further support the transition to tomorrow's intelligent power system by pooling and sharing the research, technological development and demonstration results of different smart grids projects in Europe. Providing reliable information about the state-of-the-art of smart grids in Europe is essential to build investor confidence, and to design a regulatory environment and necessary standards that can help make smart grids a success.
Smart Grids Projects in Europe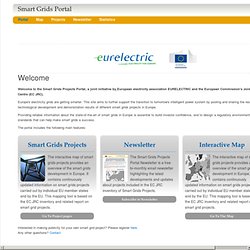 dooApp dooApp is a start-up founded in November 2010 and established in Lille. dooApp brings together engineers having a passion for sustainable and environment-friendly building design and for innovative software creation. We develop modern and intuitive tools for green building actors.
dooApp, Editeur de logiciel pour l'écoconstruction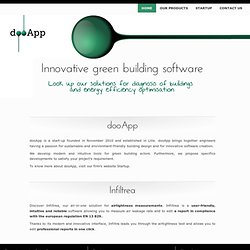 Electricité, énergie, consommation électrique - Union Française de l'Electricité (UFE)
Ökostrom und Gas - LichtBlick AG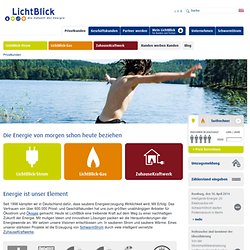 Echter Ökostrom von LichtBlick: Kein Atomstrom, kein Öl, keine Kohle. Dass LichtBlick-Strom 100 % Ökostrom ist und ausschließlich aus erneuerbaren Quellen stammt und somit bei der Produktion keine klimaschädlichen CO2-Emissionen entstehen, lassen wir jährlich vom TÜV überprüfen und zertifizieren – mit Ökostrom von LichtBlick wird der Stromsee noch ein Stück sauberer. Hier finden Sie das aktuelle TÜV-Zertifikat zum Download
Welcome to ESRU's Web site, home of knowledge and high quality courseware and software for students and practitioners interested in energy efficiency and new and renewable energy systems deployment at both the strategic and urban scale. The information you will find includes: publications describing the results from various research projects;open source programs for energy systems performance assessment at various scales;consultancy services to architectural/engineering practices, local authorities and industry;teaching and learning material for students and practitioners. Should you require information that is not accessible at this site, please contact us and we will endeavour to help where we can.
Energy Systems Research Unit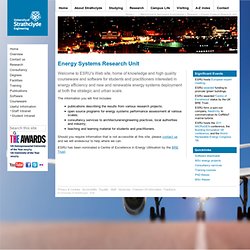 AIE - Carbone
YOUNICOS
ACCIONA Energy
World of Renewables - Renewable Energy News, Events, Companies, Products, Jobs and more
UK's Renewable Energy Champions Recognised RenewableUK, the trade and professional body representing the wind, wave and tidal energy industries, has announced the winners of the association's inaugural Energy Awards.... Making Mirrors for the Sun With $1.5 million from the Department of Energy, UA researchers are continuing to improve groundbreaking technology to produce solar electricity at a price competitive with non-renewable energy sources. ... All-Energy 2012 and Scotland's Marine Energy Potential