Off2
Facebook Platform enables you to make your web site more social. You can use our Social Plugins , such as the Like Button to drive user engagement with a single line of HTML. Our Login Button and Registration Plugin let you simplify or eliminate your own user registration and sign-in. Lastly, the Graph API lets you access the full social graph of a given user, allowing you to create a truly deep personal experience.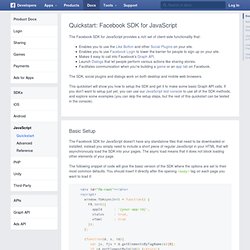 Weather - Yahoo! Developer Network
The Weather RSS feed enables you to get up-to-date weather information for your location. You can save this feed in My Yahoo! or your favorite feed aggregator, or incorporate the RSS data into your own web site or client application. The Weather RSS feed is a dynamically-generated feed based on WOEID. This page describes the format of the Weather request URL and the RSS response for developers. It contains these sections:
Developer Center
Common API Tasks Event search Find lists of events by keyword, location, time period, category, performer, or venue. Venue search Find lists of venues by location, name, or type.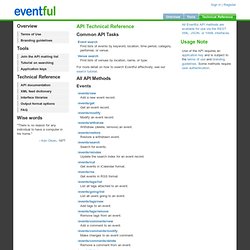 Documentation - Eventful API