Amazon
Amazon data center size « Huan Liu's Blog. (Edit 3/16/2012: I am surprised that this post is picked up by a lot of media outlets.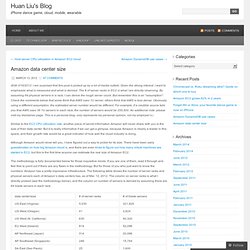 Given the strong interest, I want to emphasize what is measured and what is derived. The # of server racks in EC2 is what I am directly observing. By assuming 64 physical servers in a rack, I can derive the rough server count. Additional Reserved Instance Options for Amazon RDS. Hot on the heels of our announcement of Additional Reserved Instance Options for Amazon EC2, I would like to tell you about a similar option for the Amazon Relational Database Service.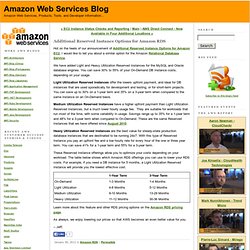 We have added Light and Heavy Utilization Reserved Instances for the MySQL and Oracle database engines. You can save 30% to 55% of your On-Demand DB Instance costs, depending on your usage. Light Utilization Reserved Instances offer the lowers upfront payment, and ideal for DB instances that are used sporadically for development and testing, or for short-term projects.
You can save up to 30% on a 1-year term and 35% on a 3-year term when compared to the same instance on an On-Demand basis. Medium Utilization Reserved Instances have a higher upfront payment than Light Utilization Reserved Instances, but a much lower hourly usage fee. New Whitepaper: Amazon's Corporate IT Deploys Corporate Intranet Running SharePoint 2010 on AWS. Within Amazon, we often use the phrase "drinking our own champagne" to describe our practice of using our own products and services to prove them out under actual working conditions.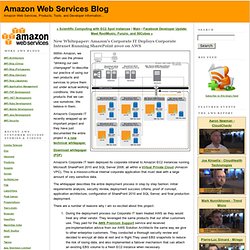 We build products that we can use ourselves. We believe in them. Amazon's Corporate IT recently wrapped up an important project and they have just documented the entire project in a new technical whitepaper. The Amazon Tablet is Real. And MG Siegler (speaking of MG) has seen it: The interface is all Amazon and Kindle.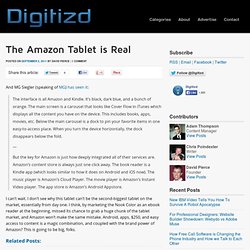 It's black, dark blue, and a bunch of orange. Additional CloudWatch Metrics for Amazon SQS and Amazon SNS. I spent yesterday morning working in a coffee shop while waiting to have an informal discussion with a candidate for an open position.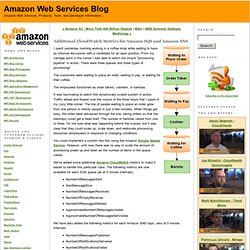 From my vantage point in the corner I was able to watch the shop's "processing pipeline" in action. There were three queues and three types of processing! The customers were waiting to place an order, waiting to pay, or waiting for their coffee. Amazon Simple Email Service Now Supports Attachments. You can now use the Amazon Simple Email Service to send email message that include attachments such as images or documents.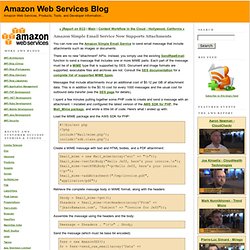 There are no new "attachment" APIs. Instead, you simply use the existing SendRawEmail function to send a message that includes one or more MIME parts. Amazon Deploying Containers in Oregon « Data Center Knowledge. A look at the Amazon Perdix container, included in a presentation at Amazon Technology Day.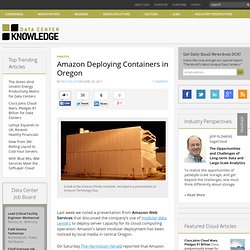 Last week we noted a presentation from Amazon Web Services that discussed the company's use of modular data centers to deploy server capacity for its cloud computing operation. Amazon's latest modular deployment has been noticed by local media in central Oregon.
Projects on AWS
Windows on Amazon EC2 Security Guide : Articles & Tutorials. By Jesper M.
Johansson Principal Security Architect, Amazon.com Default Setup Amazon EC2 running Windows is provided through an Amazon Machine Image (AMI). Blogs. About AWS. In 2006, Amazon Web Services (AWS) began offering IT infrastructure services to businesses in the form of web services -- now commonly known as cloud computing.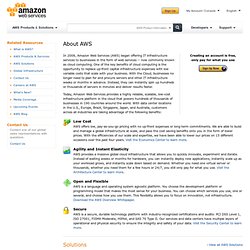 One of the key benefits of cloud computing is the opportunity to replace up-front capital infrastructure expenses with low variable costs that scale with your business. With the Cloud, businesses no longer need to plan for and procure servers and other IT infrastructure weeks or months in advance.
---