Web
Weboplaintes, les arnaques et les plaintes du Web
Annonce de la World Wide Web Foundation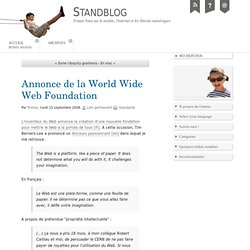 L'inventeur du Web annonce la création d'une nouvelle fondation pour mettre le Web à la portée de tous. A cette occasion, Tim Berners-Lee a prononcé un discours passionnant dans lequel je me retrouve : The Web is a platform, like a piece of paper.
Bidouillabilité : pourquoi il est essentiel de pouvoir bidouille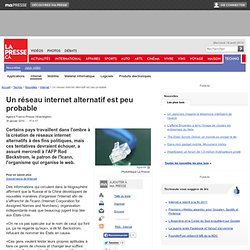 Certains pays travaillent dans l'ombre à la création de réseaux internet alternatifs à des fins politiques, mais ces tentatives devraient échouer, a assuré mercredi à l'AFP Rod Beckstrom, le patron de l'Icann, l'organisme qui organise le web. Des informations qui circulent dans la blogosphère affirment que la Russie et la Chine développent de nouvelles manières d'organiser l'internet afin de s'affranchir de l'Icann (Internet Corporation for Assigned Names and Numbers), organisation indépendante mais que beaucoup jugent trop liée aux États-Unis. «On ne va pas spéculer sur le nom de ceux qui font ça, ça ne regarde qu'eux», a dit M.
Un réseau internet alternatif est peu probable