Samgoeta
Samuel Goeta
Early pearler
Revue Réseaux 2013/5, Militantisme en réseau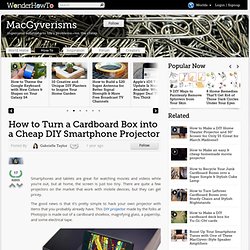 Smartphones and tablets are great for watching movies and videos while you're out, but at home, the screen is just too tiny.
How to Turn a Cardboard Box into a Cheap DIY Smartphone Projector
International Principles on the Application of Human Rights to Communications Surveillance | Drupal
C'est lors du meetup de lancement de l'Open Knowledge Foundation France le 14 décembre 2012 et de la table ronde portant sur les données publiques à laquelle participait Charles Ruelle, directeur technique d'Etalab, qu'a émergé l'idée d'organiser un événement de redesign de data.gouv.fr . Plusieurs des participants ont saisi cette occasion pour partager des remarques et suggestions concernant le site data.gouv.fr, la plateforme lancée par Etalab la mission gouvernementale chargée de l'ouverture des données publiques.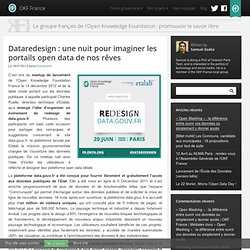 Dataredesign : une nuit pour imaginer les portails open data de nos rêves
Paris, 12 July 2013 — A leaked draft legislative text shows that the European Commission might be about to kill the open and free Internet. Under the guise of protecting Net neutrality, the Commission wants to give telecom operators a free hand to develop business models that would irremediably undermine freedom of communication on the Internet. For years now, commissioner Neelie Kroes has been bafflingly sympathetic to big telecom companies on the fundamental issue of Net neutrality, but with this draft text she would be going much too far in betraying citizens.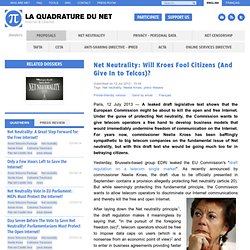 Net Neutrality: Will Kroes Fool Citizens (And Give In to Telcos)?
1. Mettre l'accent sur l'interactivité :L'interaction avec la plateforme parait être un moyen d'intéresser un public d'enfants ou d'adolescents à l'ouverture des données publiques et à l'utilisation de la plateforme tout en les sensibilisant à différentes problématiques qui peuvent rejoindre des points abordés dans les prorgrammes scolaires (en économie pour les élèves de section ES etc.).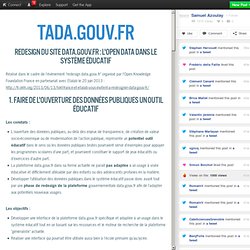 tada.gouv.fr
Wikidata, le Wikipédia que vous utiliserez bientôt tous | Hotel Wikipedia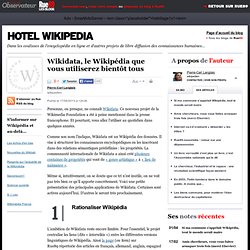 Personne, ou presque, ne connaît Wikidata. Ce nouveau projet de la Wikimedia Foundation a été à peine mentionné dans la presse francophone. Et pourtant, vous allez l'utiliser au quotidien dans quelques années.
tada.gouv.fr
Enjeux politiques d'Internet