Curation
At LeWeb yesterday, Microsoft demonstrated a pretty, new way to curate the web's information: Montage .
Microsoft Introduces Montage, a Magazine-Like, Topic-Based Web App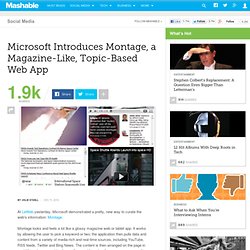 montage.cloudapp
YouTube Continues to Fight Homelessness with a New Curator of the "Invisible People" Homepage
23 August 2010 | By Anna Rudenko YouTube starts a new round of fighting against homelessness this Sunday, August 22, as it has invited InvisiblePeople.tv founder Mark Horvath to guest curate the site's homepage with videos that smash stereotypes about America's most forgotten citizens. The opportunity to curate YouTube's homepage coincides with the halfway point of InvisiblePeople.tv's 2010 Road Trip U.S.A., which is dedicated to helping homeless individuals and families in 28 cities tell their stories using online social media. Horvath is a nationally recognized advocate who founded the nonprofit InvisiblePeople.tv organization in 2008 as a way to rebuild his life following his own bout with homelessness.