Curation
Storyful. Microsoft Introduces Montage, a Magazine-Like, Topic-Based Web App. At LeWeb yesterday, Microsoft demonstrated a pretty, new way to curate the web's information: Montage.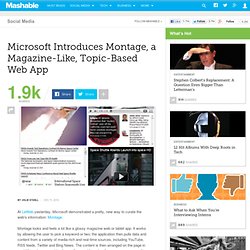 Montage looks and feels a lot like a glossy magazine web or tablet app. It works by allowing the user to pick a keyword or two; the application then pulls data and content from a variety of media-rich and real-time sources, including YouTube, RSS feeds, Twitter and Bing News. The content is then arranged on the page in a grid format — you get to choose the exact layout — for your own consumption and for sharing with others.
For example, we used the term "Christmas trees" to create a Montage of our own. Montage.cloudapp. Ushahidi :: Home. YouTube Continues to Fight Homelessness with a New Curator of the "Invisible People" Homepage. YouTube starts a new round of fighting against homelessness this Sunday, August 22, as it has invited InvisiblePeople.tv founder Mark Horvath to guest curate the site's homepage with videos that smash stereotypes about America's most forgotten citizens.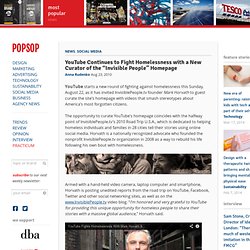 The opportunity to curate YouTube's homepage coincides with the halfway point of InvisiblePeople.tv's 2010 Road Trip U.S.A., which is dedicated to helping homeless individuals and families in 28 cities tell their stories using online social media. Horvath is a nationally recognized advocate who founded the nonprofit InvisiblePeople.tv organization in 2008 as a way to rebuild his life following his own bout with homelessness. Armed with a hand-held video camera, laptop computer and smartphone, Horvath is posting unedited reports from the road trip on YouTube, Facebook, Twitter and other social networking sites, as well as on the www.InvisiblePeople.tv video blog.
---