Distros
Which *buntu to pick?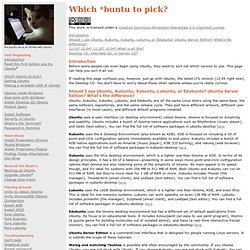 This work is licensed under a Creative Commons Attribution-ShareAlike 3.0 Unported License. IntroductionShould I use Ubuntu, Kubuntu, Xubuntu, Lubuntu, or Edubuntu? Ubuntu Server Edition? What's the difference?12.10?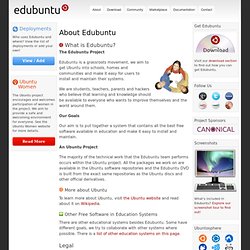 What is Edubuntu? The Edubuntu Project Edubuntu is a grassroots movement, we aim to get Ubuntu into schools, homes and communities and make it easy for users to install and maintain their systems. We are students, teachers, parents and hackers who believe that learning and knowledge should be available to everyone who wants to improve themselves and the world around them. Our Goals Our aim is to put together a system that contains all the best free software available in education and make it easy to install and maintain.
About Edubuntu | Edubuntu
Medibuntu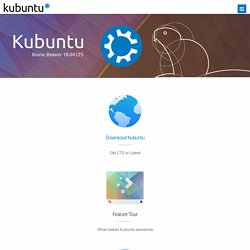 Kubuntu, making your PC friendly Kubuntu is an operating system built by a worldwide team of expert developers. It contains all the applications you need: a web browser, an office suite, media apps, an instant messaging client and many more. Kubuntu is an open-source alternative to Windows and Office.
About « Xubuntu
What is Xubuntu? Xubuntu is a community developed, GNU/Linux based Free/Open Source operating system. It is an officially recognized flavor of the popular Ubuntu operating system. The Xubuntu community is built around the ideals enshrined in the Ubuntu Philosophy: that software should be available free of charge, that software tools should be usable by people in their local language and despite any disabilities, and that people should have the freedom to customize and alter their software in whatever way they see fit. Ideals behind Xubuntu