Pics
Get flash to fully experience Pearltrees
The word "waterfall" is pretty self-explanatory: a mass of flowing water rapidly dropping over a steep cliff. This phenomenon can be natural – which makes it even more spectacular, or created by human hands. Today's showcase of 50 photos will focus on the first category: natural waterfalls that are meant to emphasize the beauty of pure nature in many parts of the world. As the water falls and splahses, rainbows are created, which are a delight for the eyes. Beauty of Skogafoss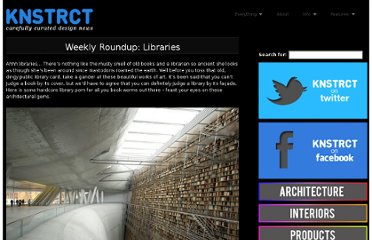 Ahhh libraries… There's nothing like the musty smell of old books and a librarian so ancient she looks as though she's been around since mastodons roamed the earth. Well before you toss that old, dingy public library card, take a gander at these beautiful works of art. It's been said that you can't judge a book by its cover, but we'd have to agree that you can definitely judge a library by its façade.
National Geographic is currently holding its annual photo contest , with the deadline for submissions coming up on November 30. For the past nine weeks, the society has been gathering and presenting galleries of submissions, encouraging readers to vote for them as well. National Geographic was kind enough to let me choose among its entries from 2011 for display here on In Focus. Gathered below are 45 images from the three categories of People, Places, and Nature, with captions written by the individual photographers. [ 45 photos ] Use j/k keys or ←/→ to navigate Choose:
digg On March 10, 1869, railroad officials, political leaders and work gangs converged at Promontory Point, Utah, to drive in the last spike of the Pacific Railroad, the first of five transcontinental railroads built in the 19th century. The driving of the spike linked the Union Pacific line built from East to West with the Central Pacific, which had commenced construction in California. On January 28, 1986, after about 73 seconds into its launch, space shuttle Challenger exploded, leading to the deaths of its seven crew members, which included the first teacher in space. The first transcontinental telegraph line went into operation 149 years ago on October 24, 1861, when the gap between the country's eastern and western networks was closed. The year before, Congress passed the Pacific Telegraph Act, subsidizing its construction and Hiram Sibley, president of the Western Union Telegraph Company, organized crews to build west from Omaha and East from Carson City to Salt Lake City.
The World Press Photo Of The Year Contest is one of the most prestigious annual events for press photographers. These are the winners in 2010. Read the descriptions underneath each image to find out more about the setting and the photographer. Warning: Some images are graphic in displaying the horror that can be human life. UPDATE: Check out our World Press Photo Of The Year 2011 edition .
Every day at 5pm the Sifter posts the Picture of the Day . Below you will find a collection of the Sifter's Top 50 from 2011. It's hard to imagine the year is almost over, time seems to fly faster each successive year so it's fun to take a moment and look back at the year that was. Click any of the pictures below to be taken to the individual post to learn more about the photographer and picture taken .