Wedding
Bespoken Art - Art that Speaks Volumes. Is Your Groom Tough As Nails? - Barn Nail Ring. Posted January 9, 2012 | 3 Comments Is your groom tough as nails?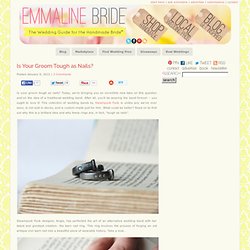 Today, we're bringing you an incredible new take on this question and on the idea of a traditional wedding band. After all, you'll be wearing the band forever – you ought to love it! This collection of wedding bands by Steampunk Funk is unlike any we've ever seen, is not sold in stores, and is custom-made just for him. What could be better?
Planning
DIY-stuff. Decos. Theme/ideas. Mental_floss Blog & The Bizarre Origins of 8 Wedding Traditions. If the throngs of crazed customers clutching registry printouts at Crate & Barrel are any indication, wedding season is once again upon us.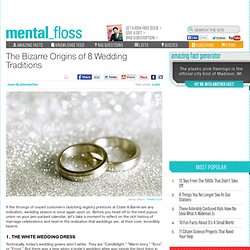 Before you head off to the next joyous union on your jam-packed calendar, let's take a moment to reflect on the rich history of marriage celebrations and revel in the realization that weddings are, at their core, incredibly bizarre. 1. The White Wedding Dress Technically, today's wedding gowns aren't white. Inner Message Ring by Jungyun Yoon - StumbleUpon.
---