Snackers
Homemade French Fries & Naturally Ella - StumbleUpon. Why there is no need to purchase pre-made fries in the freezer aisle – in pictures and rhyme: One potato (find a potato) Two potato (cut the ends off)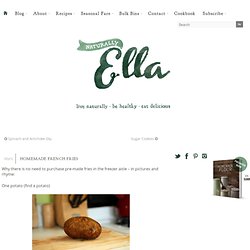 Baked Egg Boat recipe - StumbleUpon. Breakfast is my favorite meal.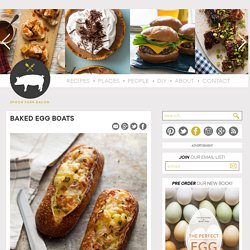 I like to drink iced coffee and watch the cream climb its way down the chunky ice cubes in a dazy before the caffeine hits. I like to order bacon with whatever I'm eating. I like eating potatoes with ketchup. Bacon Wrapped Jalapenos Recipe | Free Online Recipes | Free Recipes - StumbleUpon. One of the best grilled appetizers is bacon wrapped jalapeno peppers.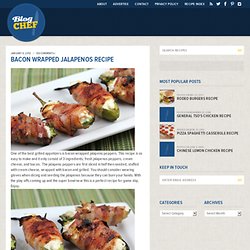 This recipe is so easy to make and it only consist of 3 ingredients; fresh jalapenos peppers, cream cheese, and bacon. The jalapeno peppers are first sliced in half then seeded, stuffed with cream cheese, wrapped with bacon and grilled. You should consider wearing gloves when slicing and seeding the jalapenos because they can burn your hands. With the play offs coming up and the super bowl near this is a perfect recipe for game day.
Tomato and Bread Bowl 'Soupetizers' | PETA.org - StumbleUpon. The following article was written by Keegan Baur.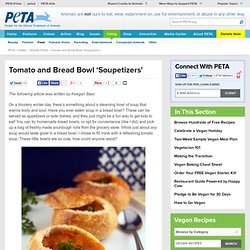 On a blustery winter day, there's something about a steaming bowl of soup that warms body and soul. Have you ever eaten soup in a bread bowl? Pesto Deviled Eggs for a Dr. Seuss Bento. Wedding Food Idea - Mini Food. Eenie, meenie, minie, MEATBALL!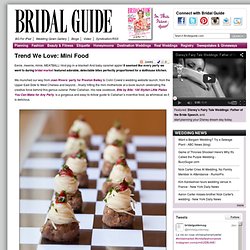 And pig-in-a-blanket! And baby caramel apple! Pepperoni Pizza Puffs - StumbleUpon. If I ask my kids what they want for dinner, there's a ninety percent chance they will say pizza.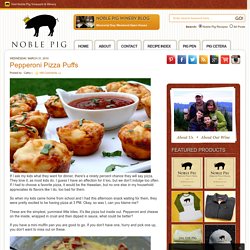 They love it, as most kids do. I guess I have an affection for it too, but we don't indulge too often. If I had to choose a favorite pizza, it would be the Hawaiian, but no one else in my household appreciates its flavors like I do, too bad for them. So when my kids came home from school and I had this afternoon snack waiting for them, they were pretty excited to be having pizza at 3 PM. Okay, so was I, can you blame me? Homemade Baked Mozzarella Sticks | Penelope's Oasis - StumbleUpon.
Mozzarella sticks are a delicious treat, probably one of the most popular appetizers at restaurants, and a fun party food.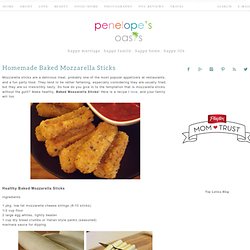 They tend to be rather fattening, especially considering they are usually fried, but they are so irresistibly tasty. So how do you give in to the temptation that is mozzarella sticks without the guilt? Make healthy, Baked Mozzarella Sticks! Scalloped Hasselback Potatoes. "Scalloped" is an attractive word, isn't it?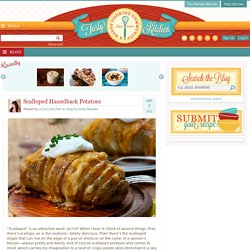 When I hear it I think of several things: first, there's scallops, as in the seafood—totally delicious. Then there's the scalloped shape that can live on the edge of a pair of shorts or on the collar of a woman's blouse—always pretty and dainty. And of course scalloped potatoes also comes to mind, which carries my imagination to a land of crispy potato skins drenched in a sea of cheese and cream.
---