Nails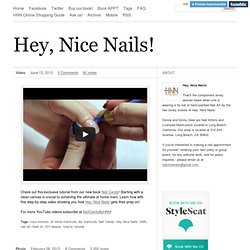 Water Marble Tutorial. Supplies: orange stick or toothpick, shot glass or cup (the smaller the circumference, the less polish you end up wasting), room temp. water, nail polish, tape (optional, but it helps with the clean up) I like to begin by prepping my nails with base coat and one coat of polish. Here I used China Glaze Innocence for a nice neutral base.
Newspaper Nail Art — Beauty - Beauty and Lace Online Magazine
DIY Nail Art
When we saw these nails spotted at Lollapalooza a couple of weeks ago, we literally stopped in our tracks. This technique of using a variety of colors and linear tribal patterns instantly won over our prior skepticism of nail art. Inspired, we went on a mission to find the best nail art pens to doodle on our own nails. You'll need: Start by painting two coats of polish on your nails.
how to manicure at home - StumbleUpon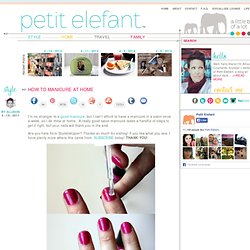 I'm no stranger to a good manicure , but I can't afford to have a manicure in a salon once a week, so I do mine at home. A really good salon manicure takes a handful of steps to get it right, but your nails will thank you in the end. Are you here from StumbleUpon? Thanks so much for visiting! If you like what you see, I have plenty more where this came from. SUBSCRIBE today!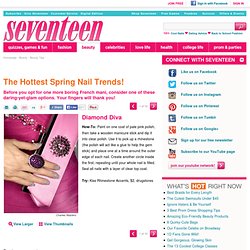 How-To: Start with shaped and buffed nails. Clean nails thoroughly with acetone polish remover. Do not use a base coat, as the blending for the ombré look will not work as well over a base coat. Work with one nail at a time so polish is wet enough to blend. Starting at the cuticle area, apply a blue polish in a thick layer, using a dabbing technique, about 1/3 of the way up the nail. Using a lighter, metallic-blue shade, immediately polish, starting where darker blue ends, and "drag" the end of the darker blue polish up the nail to the end with the lighter blue to create an ombré "fade" (so the colors look like they fade into each other).
Spring Nail Trends - DIY Nail Ideas