HairCare/Beauty
Best Tan Recipe Ever | Borntobeblonde. *Valentine*: 1 foulard, 3 possibilités - StumbleUpon. Sugar For Skin | Sugar Scrubs | Beauty Recipes | Homemade Scrubs. Sugar for your skin was not always considered very beneficial.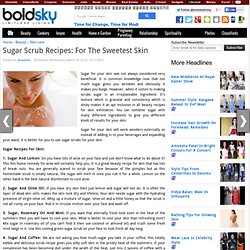 It is common knowledge now that too much sugar gives you wrinkles and obviously it makes you bulge. However, when it comes to making scrubs sugar is an irreplaceable ingredient. It's texture which is granular and consistency which is sticky makes it an apt inclusion in all beauty recipes for skin exfoliation. You can combine sugar with many different ingredients to give you different kinds of results for your skin.
Sugar for your skin will work wonders externally so instead of adding in to your beverages and expanding your waist; it is better for you to use sugar scrubs for your skin.
7 Foods for Healthy Skin - iVillage. Celebrity Skin Care Secrets - Skin Care Tips. "I cleanse twice a day, and I use BenzaClin once a day.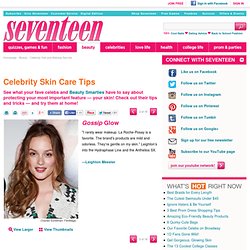 Another thing that I always tell people, even though I don't listen to my own advice, get some sleep. Sleep is incredibly important for clear skin. I don't get enough of it, and the times that I have enough, I definitely had a healthier glow. Twice a week I'll do a clay mask, or something like that. Also, if you want to be in sun, please use SPF, it's important. "
DIY - MAKE YOUR OWN WAX FOR HAIR REMOVAL | Fashion - Yahoo! Shine - StumbleUpon. I was chatting with someone on my flight back from my vacation.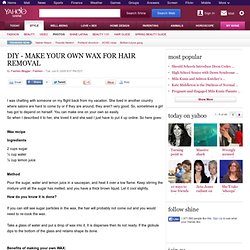 She lived in another country where salons are hard to come by or if they are around, they aren't very good. So, sometimes a girl has got to depend on herself. Wax On, Wax Off - Homemade Hair Removal part 1 - StumbleUpon. Unfortunately sisters Rebecca and Maggie come from a very hairy family.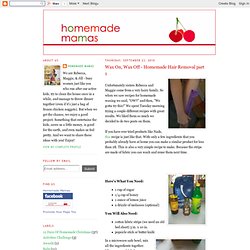 So when we saw recipes for homemade waxing we said, "OW!! " and then, "We gotta try this! "
- StumbleUpon. 10 of the Best Drug Store Beauty Buys | MintLife Blog | Personal Finance News & Advice - StumbleUpon. I have an apology to make: I used to be one of those girls behind the makeup counter of a big, fancy department store selling you over-priced beauty products.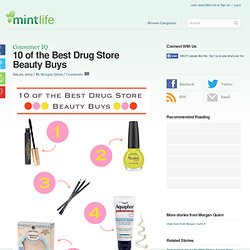 While I won't say which brand I worked for, I can tell you that my uniform consisted of all black and way too much makeup. Hey, it was the 90's, after all. Well, I'm here to make amends. Because, you see, not all department store makeup is better than the drug store version. In fact, a lot of drug store makeup is way better than the junk being sold in the department stores. All Natural Homemade Skincare Recipes &Face Masks | Awakened Aesthetic - StumbleUpon. I feel as though I should invest in a regular supply of plain yogurt.
It seems to be in everything all-natural-eco-awesome (that isn't vegan, anyway), from face masks to smoothies to a replacement ingredient to create more healthful recipes. When I began hunting for do it yourself face masks, I kept seeing it: oatmeal and yogurt face mask . Yogurt honey mask . Yogurt: the key to a DIY life. The problem is that every time I buy yogurt, plain or otherwise, it goes bad. Party DIY | A Subtle Revelry - StumbleUpon. Home Made Pore strips - without gelatin or eggs | LUUUX - StumbleUpon.
Beauty Tips - Skincare at WomansDay.com - Womans Day. Whether it's for antiaging creams, acne medicine or exfoliating scrubs, American women spend a bundle on maintaining their beauty.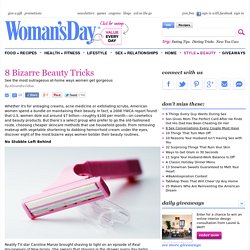 In fact, a 2008 YWCA report found that U.S. women dole out around $7 billion—roughly $100 per month—on cosmetics and beauty products. But there's a select group who prefer to go the old-fashioned route, choosing cheaper skincare methods that use household goods. From removing makeup with vegetable shortening to dabbing hemorrhoid cream under the eyes, discover eight of the most bizarre ways women bolster their beauty routines. No Stubble Left Behind Reality TV star Caroline Manzo brought shaving to light on an episode of Real Housewives of New Jersey. YOU ASKED FOR IT… - StumbleUpon. Photos + post by Kristin Ess So many emails have come in asking how I did the braid on Lauren's hair for her last Chelsea Lately appearance.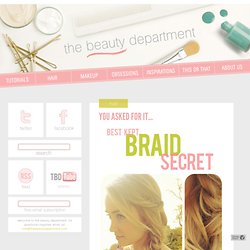 I recently recreated that braid and took a couple photos so you could see it up close. Here's the very simple secret to this braid: In a regular braid there are 3 strands. For this look, all you do is braid one of those strands beforehand and loosen it up with your fingers, then braid as usual.
---