drinks
Get flash to fully experience Pearltrees
1. PB Frappe Puree 1/4 cup peanut butter with 1 cup milk.
About Yummly Yummly is building the digital kitchen platform and mapping the food genome...making life better/easier/more fun for everyone who cooks.
Growing up, these Italian sodas were my favorite!! My mom and I would always stop by a little coffee shack on our road trips to Oregon. I remember ordering the blueberry Italian soda in the summer instead of ice cream because they were so refreshing.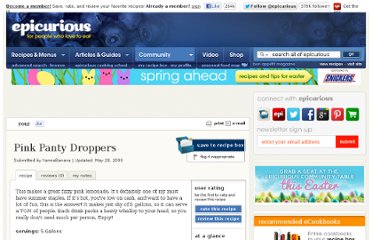 This makes a great fizzy pink lemonade. It's definitely one of my must have summer staples.
Like many of you, I LOVE loose leaf tea. However, I'm always looking for cute and creative solutions to use my tea. These D.I.Y. tea bags are super cute.