DIYprojects
DIY: Decoupage
Don't you guys love Pinterest? That's where I found this idea. Here's a great way to save some money on your craft addictions; make you own Decoupage! And it really works plus it's easy to do. You need.... A jar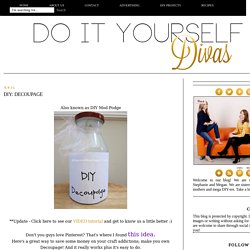 DIY Screen Printing How-to | ThreadBanger - D.I.Y Fashion & Style
by Michelle Vackar, Modern Handmade Child One of our favorite outside activities at our home is drawing with chalk on the driveway. You can play hopscotch, four-square, and of course draw and create silly stories. My daughters and I were talking one day as we played hopscotch about how to make chalk and I thought to myself, let's try it! It ended up being quite a lot of fun.
Tutorial: Homemade Sidewalk Chalk | oh my! handmade goodness - StumbleUpon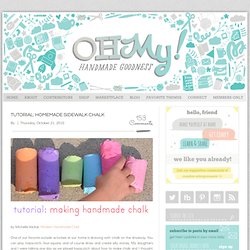 I decided to try and make my own DIY glitter clutch for the holiday season and I am super pleased with how it turned out. This project is really easy — even non-crafters can glitterize with great results. For this DIY you need: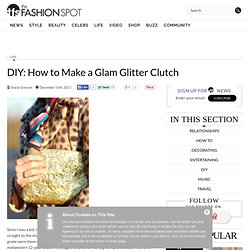 DIY: How to Make a Glam Glitter Clutch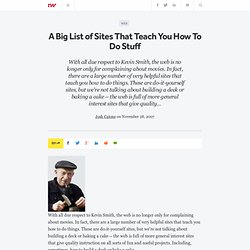 With all due respect to Kevin Smith, the web is no longer only for complaining about movies. In fact, there are a large number of very helpful sites that teach you how to do things. These are do-it-yourself sites, but we're not talking about building a deck or baking a cake -- the web is full of more general interest sites that give quality instruction on all sorts of fun and useful projects. Including, sometimes, how to build a deck or bake a cake.
A Big List of Sites That Teach You How To Do Stuff - StumbleUpon
diy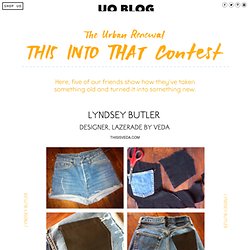 "Take your favorite pair of denim cut-offs that are in need of a makeover before summer officially hits. Flip your shorts over and prepare to seam rip the back pocket off. Put some muscle into it! Lay your pocket facedown on the backside of some leather skin and trace its outline with chalk. Place your leather pocket where the denim once was and sew it in place.
Features - This Into That
- StumbleUpon
Et pour cause... C'en est un ! Le Mâm' Sca'lett du gant, vous connaissez ? Après le doudou chaussette, une idée qui fait un pied de nez aux mitaines enrhumées !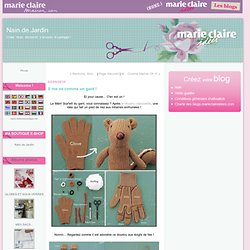 Il me va comme un gant ! : Nain.de.Jardin - StumbleUpon
Inspirational Picture Quotes for 12/2
DIY Transparent Clutch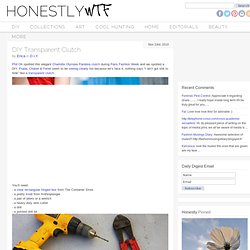 Phil Oh spotted this elegant Charlotte Olympia Pandora clutch during Paris Fashion Week and we spotted a DIY. Prada, Chanel & Fendi seem to be seeing clearly too because let's face it, nothing says "I ain't got shit to hide" like a transparent clutch. You'll start by drilling a hole at the top of the plastic box.
I have an awful habit of losing sunglasses. Needless to say, I've accumulated an impressive collection of sunglass cases over the years. Recently we've discovered that these abandoned containers can easily by re-purposed into fabulous mini clutches!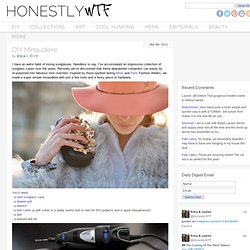 DIY Minaudière
With Earth Day just around the corner, we're turning to artist and environmentalist Chris Jordan for inspiration. In this large-zoom photograph he has captured 1.14 million brown paper supermarket bags, the number used in the US every hour. And did you know that 2.7 billion plastic bags are used every day worldwide?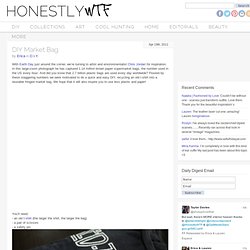 DIY Market Bag
Everywhere you look Celine pouches are somewhere to be found, lusted or dreamed of. I myself had a moment of weakness drooling over the leather pieces held together by thread and a zipper shown here. Also, where I found a least expensive alternative achieving the same look.
Just B: B Bright: DIY color block pouch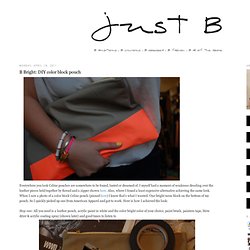 We love Rike Feurstein. Her hats are sick and her chunky knits are lusciously bold and amazing. And when we saw her Dylan scarf, we thought it was genius.
DIY No Knit Scarf
Lately, the combination of a busy school schedule and my addiction to Instagram has resulted in serious camera-neglect. I've found little time and reason to take the ol' DSLR out. So when I saw this simple lens filter DIY, I jumped at the opportunity to play around and have fun– and just in time for Valentine's Day! You don't need to be a serious photographer to create heart-shaped bokeh. "Bokeh" is a photography term that essentially means blur.
Love Is In The Air: Create Your Own Heart-Shaped Bokeh
Our love of Minnatonka moccasins and obsession with Balenciaga's Fall 2010 shoes made this DIY we created for Foam Magazine a no brainer. With just a tube of Tulip Soft Fabric Paint, a pair of paintbrushes (one thin and one thick) and a pair of suede moccasins, you'll be ready to make your own color block shoes. (Tulip Soft Fabric Paint is best paint to use, as it is highly opaque, flexible once it dries and great for suede.)
DIY Color Block Moccasins
DIY Net Bag
After crushing hard on this vintage net bag spotted by Phil Oh on the streets of NYC, we knew we had to attempt to DIY it. Sprucing up a reusable cotton bag from the grocery store with some hardware and carabiners? Sign us up! In just a few simple steps, we'll show you how to make our rendition of the net bag – perfect for a stroll in the park. Supplies Lista cotton net bag (also available at Whole Foods)2 carabiners (if you can't find gold carabiners, you can spray paint them)8 sets of 1/4″ screw postsa flat head screwdrivera pair of scissors Start by cutting each of the straps down the middle, creating 4 loose straps.
Guest DIY: Katie from Skunkboy Creatures
Hello friends! It's Katie from Skunkboy Creatures. The DIY I have to share today is a pretty collar in honor of the blog party! You can wear it over t-shirts, sweaters or anything you like!
Owl iPhone Cozy: DIY project
A Beautiful Mess
DIY: Cute handmade kids shoes!
A Beautiful Mess: DECORATE
Pottery Barn Knock-Off Tutorial - Ribbon and Bird Chandelier - StumbleUpon
» The first lime «: Homemade pore strips!
DIY Fashion-Forward Bracelets & Diy & Lifestyle & RTR On Campus - StumbleUpon
DIY Makeup-Organizing Magnetic Board - StumbleUpon
How To: make a pair of Embellished Gloves
Glittery Heeled Shoes
i love do it yourself
Smart tips to make life easier - StumbleUpon