Puzzles
Get flash to fully experience Pearltrees
How to Solve the Rubik's Cube in Seven Steps The world's most famous puzzle, simultaneously beloved and despised for it's beautiful simple complexity, the Rubiks Cube has been frustrating gamers since Erno Rubik invented it back in 1974. Over the years many brave gamers have whole-heartedly taken up the challenge to restore a mixed Rubik's cube to it's colorful and perfect original configuration, only to find the solution lingering just out of their grasp time and time again. After spending hours and days twisting and turning the vaunted cube in vain, many resorted to removing and replacing the multi-colored facelets of the cube in a dastardly attempt to cheat the seemingly infallible logic of the cube, while others simply tossed it to the side and dubbed it impossible. The Rubik's cube, it seemed, had defeated all.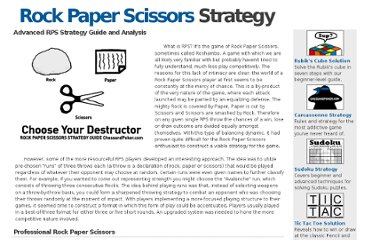 Advanced RPS Strategy Guide and Analysis What is RPS? It's the game of Rock Paper Scissors, sometimes called Roshambo.
These pages describe a method for solving Rubik's Cube very efficiently and without memorisation. Are you a beginner? You may prefer to try the Beginner's Rubik's Cube solution first. Why solve without memorisation? Learning to solve Rubik's Cube without the aid of memorised sequences is certainly much more difficult than just memorising the answers. So why bother doing it the hard way?