Personal Liberty, Freedom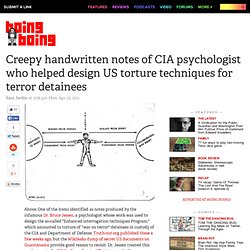 Above: One of the items identified as notes produced by the infamous Dr.
Creepy handwritten notes of CIA psychologist who helped design US torture techniques for terror detainees
Anonymous makes a laughing stock of HBGary
Google Image Result for http://i26.tinypic.com/dre9t0.jpg
302 Moved
Low Orbit Ion Cannon (LOIC) is an open source network stress testing and denial-of-service attack application, written in C#. LOIC was initially developed by Praetox Technologies, but was later released into the public domain,[1] and now is hosted on several open source platforms.[2][3]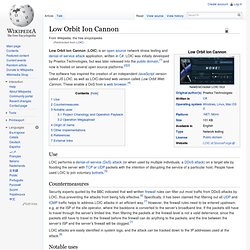 low orbit ion cannon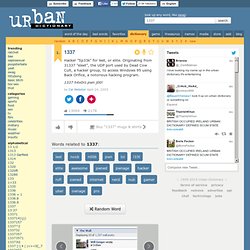 1337
Hacker "Sp33k" for leet, or elite. Originating from 31337 "eleet", the UDP port used by Dead Cow Cult, a hacker group, to access Windows 95 using Back Orifice, a notorious hacking program. 1337 h4x0rz pwn j00!
Corporate Hacker Tries to Take Down WikiLeaks - The Colbert Report - 2/24/11
Schneier on Security
John Sedat, a biochemistry and biophysics professor, says he's not going to get on an airplane again — at least not until the TSA rethinks its deployment of hundreds of body scanners that hit travelers with a tiny amount of radiation.
'Nude' Airport Scanners: Are They Safe? | Threat Level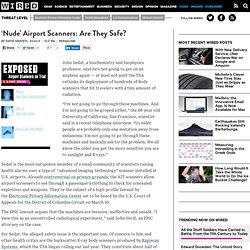 Chilling Effects Clearinghouse
Twitter's Response to WikiLeaks Subpoena Should Be the Industry Standard | Threat Level
ANALYSIS: Twitter introduced a new feature last month without telling anyone about it, and the rest of the tech world should take note and come up with its own version of it. Twitter beta-tested a spine. On Friday, it emerged that the U.S. government recently got a court order demanding that Twitter turn over information about a number of people connected to WikiLeaks, including founder Julian Assange, accused leaker Pfc.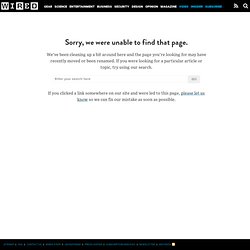 The world's media has jumped on the news that the US Department of Justice has sought, and obtained a court order seeking to compel Twitter to reveal account information associated with several of its users who are associated with Wikileaks. Communications privacy law is exceedingly complex, and unfortunately, none of the legal experts who actually specialize in this area (people like Orin Kerr, Paul Ohm, Jennifer Granick and Kevin Bankston) have yet to chime in with their thoughts. As such, many commentators and journalists are completely botching their analysis of this interesting event.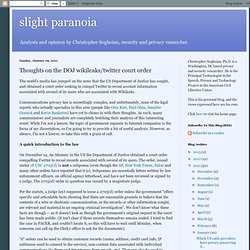 Thoughts on the DOJ wikileaks/twitter court order
There is a lot of discussion about Do Not Track at the moment. The FTC has announced support for the idea; Mozilla has added a Do Not Track header option into Firefox betas, and Congresswoman Jackie Speier has introduced a Do Not Track bill. Other proposed privacy legislation, such as Rep.
What Does the "Track" in "Do Not Track" Mean?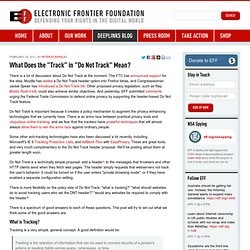 HTTPS Everywhere Rulesets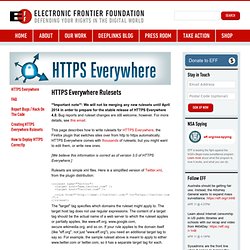 This page describes how to write rulesets for HTTPS Everywhere, the Firefox plugin that switches sites over from http to https automatically. HTTPS Everywhere comes with thousands of rulesets, but you might want to edit them, or write new ones.
Read full article Continue reading page |1|2 Editorial: Giving democracy a shot in the arm IN AN ideal world, elections should be two things: free and fair. Every adult, with a few sensible exceptions, should be able to vote for a candidate of their choice, and each single vote should be worth the same.
Sign in to read: Electoral dysfunction: Why democracy is always unfair - science-in-society - 28 April 2010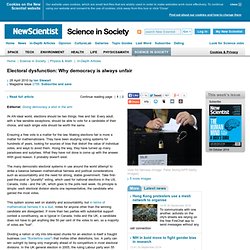 Press Releases: February, 2006
VoIP and Law Enforcement Surveillance
American Footprints
A Pretty Good Way to Foil the NSA
How easy is it for the average internet user to make a phone call secure enough to frustrate the NSA's extrajudicial surveillance program? Wired News took Phil Zimmermann's newest encryption software, Zfone, for a test drive and found it's actually quite easy, even if the program is still in beta.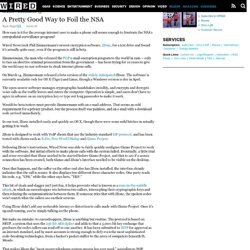 Learn about nonviolent conflict and civil resistance
By Paul B. Farrell, MarketWatch
Secret China war plan: trillions in U.S. debt Paul B. Farrell
By Paul B.
Fed dictator Bernanke needs to be toppled Paul B. Farrell
Secret China war plan: trillions in U.S. debt Paul B. Farrell
By Paul B. Farrell, MarketWatch
Here's a nerve-wracking notion. Let's say you have an illegal plant in your garden or even in your home. And let's presume this plant (because it's marijuana, or some genetically altered vegetable that's illegal in Europe) will get you in trouble if the police find out.
Bees Who Work For the Police : Krulwich Wonders…
Electronic Frontier Foundation | Defending Freedom in the Digital World