Chemistry
A Tempting Science. In middle school, we learned that scientists accept conclusions when they are supported by evidence.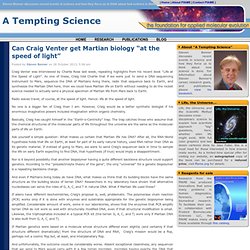 Were it only so simple. Take Richard Hoover. Working at NASA in Alabama, Hoover sliced up a piece of a Murchison "carbonaceous chondrites", a meteorite rich in tarry, carbon-rich material. Unsociable methane comes in from the cold - physics-math - 13 May 2011. An abundant but stand-offish carbon-based molecule has been coaxed into playing nice.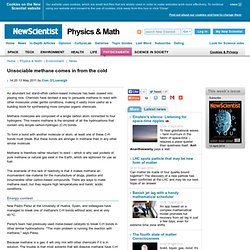 Chemists have devised a way to persuade methane to react with other molecules under gentle conditions, making it vastly more useful as a building block for synthesising more complex organic chemicals. Methane molecules are composed of a single carbon atom connected to four hydrogens. This means methane is the simplest of all the hydrocarbons that contain only simple carbon-hydrogen (C-H) bonds. The Orbitron: a gallery of atomic orbitals and molecular orbitals. A gallery of atomic orbitals and molecular orbitals on the WWW Images representing atomic orbitals and molecular orbitalsAnimated plots of wave functionsAnimated plots of electron density"Dot-density" plots of electron densityPlots of radial distribution functions A note.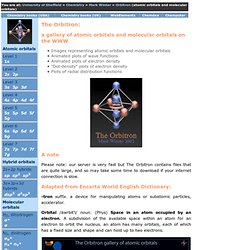 Orbitron gallery of atomic orbitals poster > Periodic table posters > Main shop menu > WebElements Ltd.
---