Book publishing
302 Moved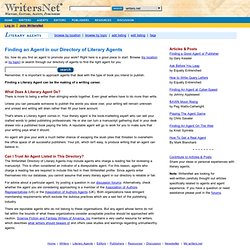 302 Moved
So, how do you find an agent to promote your work? Right here is a good place to start. Browse ( by location or by topic ) or search through our directory of agents to find the right agent for you. Remember, it is important to approach agents that deal with the type of book you intend to publish. Finding a Literary Agent can be the making of a writing career.
302 Moved
Links checked/Page updated: 1/14/13 There are many views on the question of whether a writer needs a literary agent to make a first sale. Some people think a new writer's energy is best spent on submitting directly to publishers. Others feel that, with the bigger publishers largely closed to unagented submissions, a new writer stands little chance without an agent. (For the record, I think that if you want to sell fiction to any large publisher, including the bigger independents, you're best off looking for an agent. Here's why. )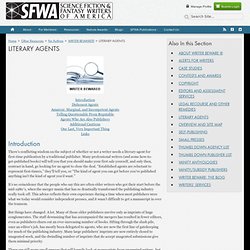 302 Moved
If you've never truly considered writing a book, take another look at the rubbish filling bookshelves at airport kiosks. The "authors" of that stuff are laughing all the way to the bank. While English majors and real literary types are screaming at each other in the stuffy halls of academia or the pages of The New Yorker , these clowns are quietly rehashing tired plots and making millions for it. You're a smart person, so we see no reason you shouldn't take a crack at making bank as well. (Heck, even if you're a ding-bat, we think you should give it a try.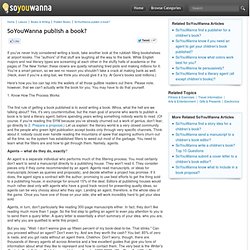 302 Moved
Dear, Readers, Welcome to the site. If this is your first time visiting us, we encourage you to check out our literary agent interviews.
302 Moved