Vegan
Finding Vegan | Vegan food photos - Vegan Recipes - Vegan Products. Life in an Organic Vegan Food Co-op. Eat, drink & be vegan. RECIPE: Vegan Salt and Pepper Tofu. June 28, 2011 Filed Under: Eats and More, Recipes Summer is for entertaining!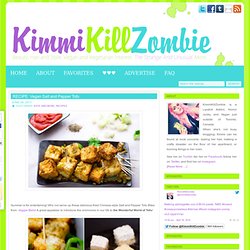 Why not serve up these delicious fried Chinese-style Salt and Pepper Tofu Bites from Veggie Belly! A great appetizer to introduce the omnivores in our life to the Wonderful World of Tofu! Easy Vegan Recipes. How do i make a tofurkey? Turkey: 5 pounds of firm tofu 1 pound of tofu for the "drumsticks" - optional Stuffing: 2 tablespoons toasted sesame oil 1 large onion, chopped fine 1 and 1/3 cup celery, diced (about 4 stalks) 1 cup mushrooms, finely chopped 3 to 4 cloves garlic, minced 1/4 cup sage (may use 1/8) 2 teaspoons marjoram 2 teaspoons thyme 1 teaspoon winter or summer savory salt and pepper to taste 1 teaspoon rosemary 2 teaspoons celery seed 1/4 cup soy sauce or tamari 3 cups Pepperidge Farm Herb Stuffing Basting mixture: 1/2 cup toasted sesame oil 1/4 to 1/3 cup soy sauce or tamari 2 tablespoons miso 2 tablespoons orange juice 1 teaspoon mustard of choice Mash tofu or mix well with hands.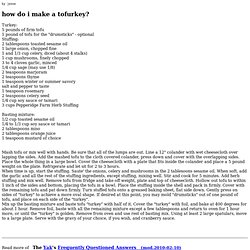 Be sure that all of the lumps are out. Line a 12" colander with wet cheesecloth over lapping the sides. Quinoa Burgers. I recently picked up one of my favourite cook books to date, Vegan Diner by Julie Hasson.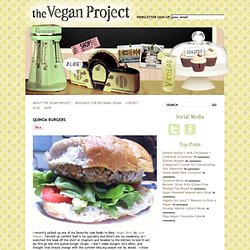 Fancied up comfort food is my specialty and diners are my weakness, so I snatched this book off the shelf at Chapters and headed to the kitchen to test it out. My first go was this quinoa burger recipe. Vegan Macaroon Recipe | Selfish Vegan. * Plus ICANN fee of C$0.20/yr. *** Domains with bulk pricing do not qualify for additional promotional discounts. † Free InstantPage®/Hosting with Website Builder are not included with .XXX domain registrations.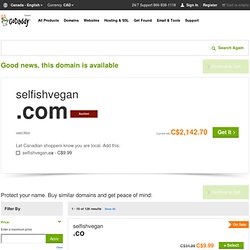 All comparison prices are accurate as of 8/21/2013 and are subject to change without notice.
---