Lessons
President Obama Cardboard Paper Sculpture. Michael Murphy is a Georgia-based artist who creates incredible multilayered sculptures, one of which was created for TIME Magazine for their iPad edition of their annual Person of the Year issue out of cardboard.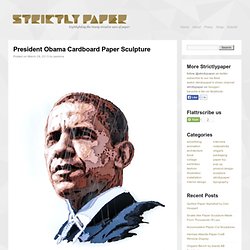 Murphy designed a huge 8′ X 6′ X 7′ cardboard sculpture of President Barack Obama consisting of 66 hand-cut cardboard plates suspended from above, the sculpture is meant to take on different meaning depending on your vantage point. "Straight on, the shapes are perfectly organized, creating a graphic portrait of Obama as a strong leader," states Murphy. "As the viewer moves around the sculpture, seeing it and the points of view change, the image of the president becomes distorted and the layers become their own separate pieces. In the distortion, viewers are encouraged to see the red and blue edges of the plates as indications of the electoral divides.
Free Printable Color Wheels. Free Printable Color Wheels can make learning easier and more fun !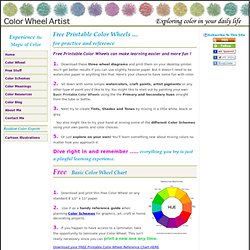 1. Download these three wheel diagrams and print them on your desktop printer. You'll get better results if you can use slightly heavier paper. But it doesn't need to be watercolor paper or anything like that. Search the Plan Catalog | Ana White. Search results for resin jewelry. How To Make Resin Jewelry - Supplies. Part One – Getting Started with Supplies Resin is an amazing medium, affording near endless possibilities for created new designs.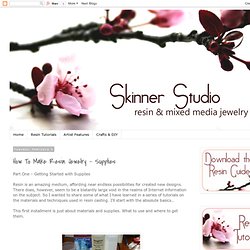 There does, however, seem to be a blatantly large void in the realms of Internet information on the subject. Tutorial: Cosplay Jewel-Making by *cafe-lalonde on deviantART. What You Wish You Knew: Job Interviews [Infographic] How many of you have come out of an interview thinking you wish you'd done something differently?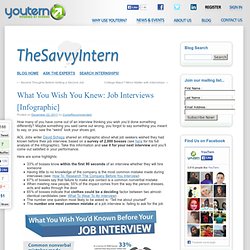 Maybe something you said came out wrong, you forgot to say something you meant to say, or you saw the "weird" look your shoes got. AOL Jobs writer David Schepp shared an infographic about what job seekers wished they had known before their job interview, based on a survey of 2,000 bosses (see here for his full analysis of the infographic). Take this information and use it for your next interview and you'll come out satisfied in your performance. Here are some highlights: Flour Tortillas | The Urban Spork. Night photography exposure guide: free cheat sheet.
Start improving your low-light photography today with our latest photography cheat sheet.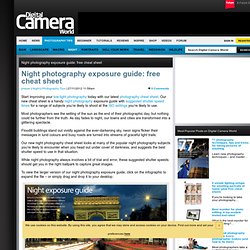 Our new cheat sheet is a handy night photography exposure guide with suggested shutter speed times for a range of subjects you're likely to shoot at the ISO settings you're likely to use. Most photographers see the setting of the sun as the end of their photographic day, but nothing could be further from the truth. As day fades to night, our towns and cities are transformed into a glittering spectacle.
Handbuilding Video: How to Make a Textured Tripod Pot with Soft Slabs. Craftiness / heart ring. Make a Penny Desk! » Man Made DIY | Crafts for Men « Keywords: penny, desk, furniture, how-to. I've long admired this floor tiled with pennies, and prayed for the guts to create a similar installation in my house.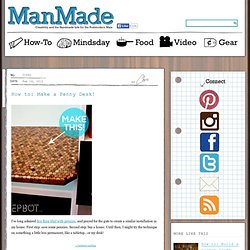 First step: save some pennies. Second step: buy a house. Project Denneler: Storage with a smile. Fourteen years ago, Eric and I bought our house not knowing how little storage there really was or how many toys two children could possibly accumulate.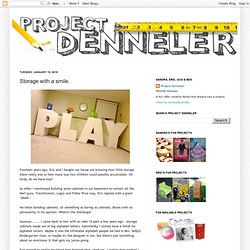 Oh lordy, do we have toys! So when I mentioned building some cabinets in our basement to contain all the Nerf guns, Transformers, Legos and Fisher Price toys, Eric replied with a giant "YAWN. " Canvas With Lighted Branches. Shopping List Canvas2 packs of tall lighted branchesBundle of sticksBag of mossGreen canvas paintCanvas Molding Paste 16ozPaste spatula Paint brushE6000 glue Tools Needed Staple gun Instructions Start by mixing molding paste with green paint.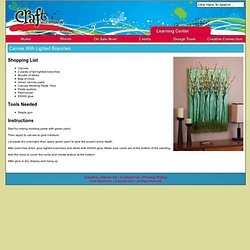 Ceramics Rubrics Set One. The Printing Process: Block Printing. Happy Monday everyone!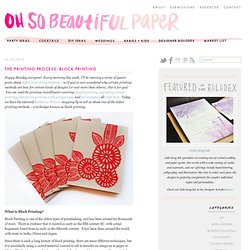 Every morning this week, I'll be running a series of guests posts about different printing methods – so if you've ever wondered why certain printing methods are best for certain kinds of designs (or cost more than others), this is for you! You can read the previous installments covering digital printing, engraving, screen printing, letterpress printing with antique type, and foil stamping all right here. Today we have the talented Katharine Watson stopping by to tell us about one of the oldest printing methods – a technique known as block printing. What is Block Printing? Block Printing is one of the oldest types of printmaking, and has been around for thousands of years.
DIY copper etching tutorial « Rings and Things. It is easy to etch your own designs into metal for jewelry.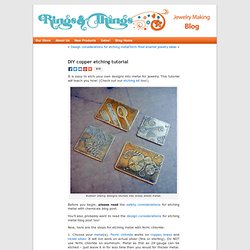 This tutorial will teach you how! (Check out our etching kit too!) Rubber stamp designs etched into brass sheet metal. Before you begin, please read the safety considerations for etching metal with chemicals blog post. You'll also probably want to read the design considerations for etching metal blog post too! Making a three stone diamond engagement ring. So, you've met the girl of your dreams, and now you want to give her a beautiful ring as lasting symbol of your love. Trouble is, you can't afford a fancy designer ring, and the ones you can afford are mass produced, studded with conflict diamonds, and polished in a sweatshop for your consumer pleasure. None of which attributes are terribly appropriate for lasting symbols of affection. Probably right up there with a flaming bag of poo. So what's a young rogue to do? Awesome Bento Art | Photo Gallery. It's Not a Pipe: Teaching Kids to Read the Media.
The image projected on the screen in the front of the classroom is Magritte's painting of a pipe, including the words, "Ceci n'est pas une pipe. " I ask the students to each briefly make a guess why they think Magritte wrote that, since the painting is obviously a pipe. Some volunteers share their guesses with the class. One student nails it. "It's not a pipe; it's a drawing of a pipe!
" Lorenzo Duran. L'artista spagnolo Lorenzo Duran si avvale delle foglie come tela per le sue incisioni. Dopo il lavaggio e l'essiccazione, rimuove con precisione chirurgica ed estrema cura i segmenti in eccesso, usando una tecnica simile a quella del tradizionale paper cutting. Quest'ultimo passo è ovviamente il più difficile vista la fragilità del materiale scelto, il risultatò di questo processo è una serie di affascinanti disegni geometrici incredibilmente belli e dilicati.
How To Draw A Wave | Club Of The Waves. Tutorial Tuesday: Foreshortening Tricks. Tutorial: Easy wrinkles and folds - Notebook In Hand. Pencil drawings by Kate Riley. Rajacenna Draws Celebrity Portraits. - StumbleUpon. Lessons.
---