CNS Neurology
In neuroscience , synaptic plasticity is the ability of the connection, or synapse , between two neurons to change in strength in response to either use or disuse of transmission over synaptic pathways. [ 1 ] Plastic change also results from the alteration of the number of receptors located on a synapse. [ 2 ] There are several underlying mechanisms that cooperate to achieve synaptic plasticity, including changes in the quantity of neurotransmitters released into a synapse and changes in how effectively cells respond to those neurotransmitters. [ 3 ] Synaptic plasticity in both excitatory and inhibitory synapses has been found to be dependent upon calcium . [ 2 ] Since memories are postulated to be represented by vastly interconnected networks of synapses in the brain , synaptic plasticity is one of the important neurochemical foundations of learning and memory ( see Hebbian theory ).
Synaptic plasticity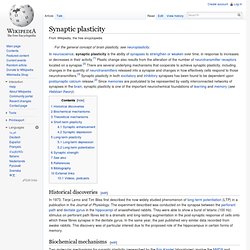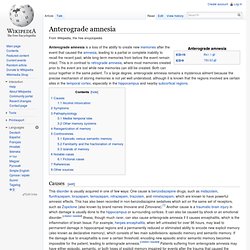 Anterograde amnesia
Anterograde amnesia is a loss of the ability to create new memories after the event that caused the amnesia , leading to a partial or complete inability to recall the recent past, while long-term memories from before the event remain intact.
Idiopathic intracranial hypertension
Idiopathic intracranial hypertension (IIH), sometimes called by the older names benign intracranial hypertension (BIH) or pseudotumor cerebri (PTC), is a neurological disorder that is characterized by increased intracranial pressure (pressure around the brain) in the absence of a tumor or other diseases. The main symptoms are headache , nausea , and vomiting , as well as pulsatile tinnitus (buzzing in the ears synchronous with the pulse), double vision and other visual symptoms.
Cerebral venous sinus thrombosis ( CVST ) is the presence of thrombosis (a blood clot) in the dural venous sinuses , which drain blood from the brain . Symptoms may include headache , abnormal vision, any of the symptoms of stroke such as weakness of the face and limbs on one side of the body, and seizures .
Cerebral venous sinus thrombosis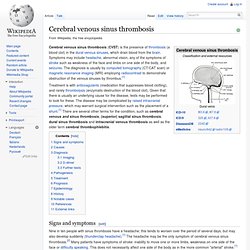 Papilledema (or papilloedema ) is optic disc swelling that is caused by increased intracranial pressure . The swelling is usually bilateral and can occur over a period of hours to weeks. Unilateral presentation is extremely rare.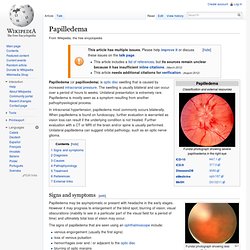 Papilledema
Deep brain stimulation ( DBS ) is a surgical treatment involving the implantation of a medical device called a brain pacemaker , which sends electrical impulses to specific parts of the brain .
Deep brain stimulation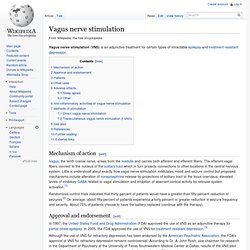 Vagus nerve stimulation
Vagus nerve stimulation ( VNS ) is an adjunctive treatment for certain types of intractable epilepsy and treatment-resistant depression . [ edit ] Mechanism of action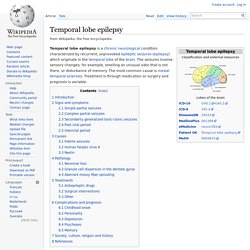 Temporal lobe epilepsy
Temporal lobe epilepsy is a form of focal epilepsy , a chronic neurological condition characterized by recurrent seizures . Over 40 types of epilepsies are known. [ 1 ] They fall into two main categories: partial-onset (focal or localization-related) epilepsies and generalized-onset epilepsies.
The ketogenic diet is a high-fat, adequate- protein , low-carbohydrate diet that in medicine is used primarily to treat difficult-to-control (refractory) epilepsy in children.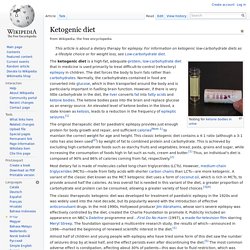 The raphe nuclei ("raffe", Greek: ραφή = seam ) are a moderate-size cluster of nuclei found in the brain stem . Their main function is to release serotonin to the rest of the brain . [ 1 ] Selective serotonin reuptake inhibitor (SSRI) antidepressants are believed to act in these nuclei, as well as at their targets. [ 2 ]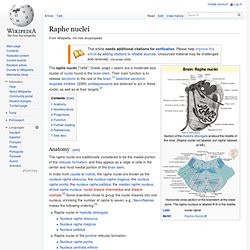 Raphe nuclei
MRI coronal view of a hippocampus shown in red
Hippocampus
Declarative memory
Declarative memory (sometimes referred to as explicit memory ) is one of two types of long term human memory .
The suprachiasmatic nucleus or nuclei , abbreviated SCN , is a tiny region on the brain's midline, situated directly above the optic chiasm .
Suprachiasmatic nucleus
Dorsal raphe nucleus
The dorsal raphe nucleus is located on the midline of the brainstem and is part of the raphe nucleus , consisting of the rostral and caudal subdivisions. The rostral aspect of the dorsal raphe is further divided into interfascicular, ventral, ventrolateral and dorsal subnuclei. The projections of the dorsal raphe have been found to vary topographically, and thus the subnuclei differ in their projections. [ 1 ]
The locus coeruleus (also spelled locus caeruleus ) is a nucleus in the pons (part of the brainstem) involved with physiological responses to stress and panic . It was discovered in the 18th century by Félix Vicq-d'Azyr , [ 1 ] or maybe later by Johann Christian Reil . [ 2 ] The locus coeruleus is the principal site for brain synthesis of norepinephrine (noradrenaline).
Locus coeruleus
Paraventricular nucleus of hypothalamus
Brodmann area 25
Cytochrome P450