Sam310_57
Sam
Make-up Magnet Board - StumbleUpon. We all know with craft blogs that original ideas are often hard to come by, we find ideas we love and make them our own but we didn't come up with the idea ourselves.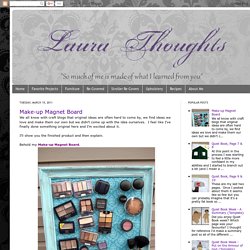 I feel like I've finally done something original here and I'm excited about it. I'll show you the finished product and then explain. Manicure Mondays – Lace Manicure DIY « Fab Fatale. Hey Everyone, sorry I've been MIA for the past few days, but I was enjoying some much needed quality time with my mom and sister.
I was on a mission to keep the computer off for my four day weekend; however, my sis and I did do a lil somethin for a belated Manicure Mondays post. Here is a super fun real lace manicure that we worked on together – actually, I just sat there watching The Office marathon while sis did all the work :).
Pearltrees videos
Getting started.
---