Patterns
Programming Patterns Overview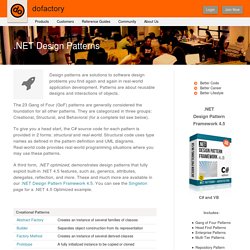 Design patterns are solutions to software design problems you find again and again in real-world application development. Patterns are about reusable designs and interactions of objects.. The 23 Gang of Four (GoF) patterns are generally considered the foundation for all other patterns.
patterns & practices: Prism
The Model-View-ViewModel (MVVM) pattern helps you to cleanly separate the business and presentation logic of your application from its user interface (UI). Maintaining a clean separation between application logic and UI helps to address numerous development and design issues and can make your application much easier to test, maintain, and evolve. It can also greatly improve code re-use opportunities and allows developers and UI designers to more easily collaborate when developing their respective parts of the application.