Tips
10 Blogs Entrepreneurs Need to Be Reading | | See the 2012 edition: 10 Must Read Blogs for Entrepreneurs (2012 Edition) #1.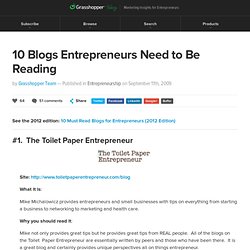 The Toilet Paper Entrepreneur Site: Make the Most of Your Sales Call - Lynette Ryals. By Lynette Ryals | 11:05 AM June 29, 2012 Over the last decade, the world of business-to-business selling has changed beyond recognition.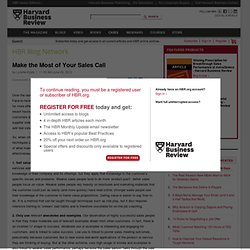 Face-to-face, transactional selling is dead; where customers want to do transactional business, it is far more effective for both buyer and seller to use the Internet or telephone. Apocalypse Prep: How to Preserve Food Without a Fridge | Wired Design. When you bring food home from a grocery store, chances are you toss it in the fridge.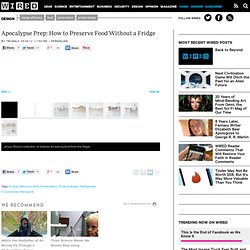 Ever stop to wonder if that's your best move? People managed to store perishables before the era of refrigeration, and if you're imagining a root cellar full of cans and preserves, you're only partially right. Designer Jihyun Ryou has made it her mission to, er, preserve some of those old methods of preserving food, designing this minimalist system for the modern kitchen. "We hand over the responsibility of taking care of food to the technology, the refrigerator," says Rhyou. Give Credit Where It's Due - Ben Dattner. By Ben Dattner | 3:16 PM March 27, 2012 You might remember the FedEx commercial "Stolen Idea". A boss asks his team for cost-cutting ideas and a young staffer suggests opening a FedEx.com account. When Someone Asks You for a Favor - Daniel Gulati. By Daniel Gulati | 3:33 PM May 10, 2012 The professional world is powered by favors — busy individuals helping those in their extended networks land highly contested roles, get feedback on ideas, or connect with influencers, typically without the expectation of either compensation or reciprocation.
I've been on the receiving end of many professional favors, the givers of which I'm deeply indebted to. How to Speak More Strategically - Peter Bregman. By Peter Bregman | 3:29 PM May 31, 2012 It had been three weeks since my throat started to feel sore, and it wasn't getting better. The pain was most acute when I spoke. So I decided to spend a few days speaking as little as possible. 89 Simple Swaps That Could Change Your Life. Whole grains for white, quality for quantity, Wii Fit for Mario Kart—just one smart swap can pave the way to a healthier and happier life.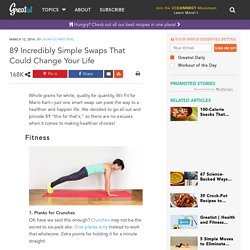 We decided to go all out and provide 89 "this for that's," so there are no excuses when it comes to making healthier choices! Fitness. Why We Owe Amazon a Huge "Thank You" How To Get Rich Without Being A Tech Titan. How To Make Money Without A Job. The Number One Mistake People I Interview Are Making These Days. Skip the Phone Support Queue by Calling Sales and Acting Confused. Skip the Phone Support Queue by Calling Sales and Acting Confused. How to Get Your Kid to Do Chores. (Photo: Ruthie Hansen) There's a new iPad app for parents to incentivize children to do chores.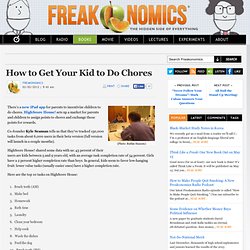 HighScore House! All Hail the Stand-Up Meeting! (Photo: petecocoon) I'm so pleased to see that stand-up meetings are gaining ground (or at least exposure, in the Wall Street Journal).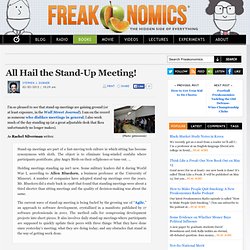 I am on the record as someone who dislikes meetings in general; I also work much of the day standing up (at a great adjustable desk that Ikea unfortunately no longer makes). As Rachel Silverman writes: Stand-up meetings are part of a fast-moving tech culture in which sitting has become synonymous with sloth. Driving Tips to Save Gas - Save Gas This Summer. Tactic No. 1: Coast to a Stop Brakes are necessary (duh!)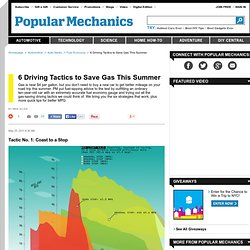 , but they're inherently wasteful: They take the kinetic energy of a moving car—energy it took pricey gasoline to generate—and turn it into heat that's lost to the air. Everyone knows that accelerating until the last moment then braking hard to stop is less efficient than slowly coasting to a red light. But PM's test data (illustrated below) prove what a huge difference coasting makes. The lesson: Whenever possible, anticipate that a light will turn red and ease off the gas.
---