Interview
Interview Stuff
What is the single most important quality for a PM to have? The Hidden Job Market is Now Revealed as Source of Best Jobs and Best Talent. 7 Reasons I'll Turn Down a Job After Interviewing With You. Interviewing is an art-form for both the job seeker and the hiring manager.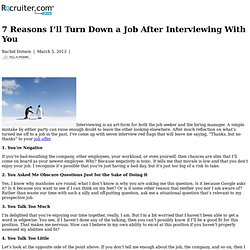 A simple mistake by either party can raise enough doubt to leave the other looking elsewhere. After much reflection on what's turned me off to a job in the past, I've come up with seven interview red flags that will leave me saying, "Thanks, but no thanks" to your job offer. 1. LinkedIn: 9 Mistakes You're Making. Lots of articles describe how to create a more marketable LinkedIn profile, how to find the right groups to join, how to choose the best profile photo...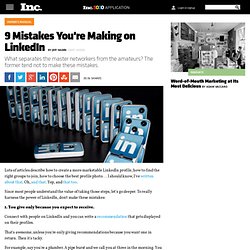 I should know, I've written about that. Oh, and that. Yep, and that too. The Most Important Interview Question of All Time. 3 Things That Will Get Your Resume Thrown in the Trash. You know all about getting your resume noticed.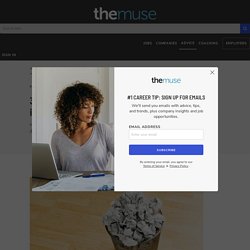 (Clean layout! Accomplishments, not duties!) But do you know what's on the flipside? What you might be doing that could cause recruiters to overlook your resume—or worse, toss it in the trash? Gasp! Why Experience is Overrated and Performance Isn't. Five Self-Defeating Behaviors that Ruin Companies and Careers - Rosabeth Moss Kanter. By Rosabeth Moss Kanter | 10:00 AM November 20, 2012 In turbulent times, it's hard enough to deal with external problems.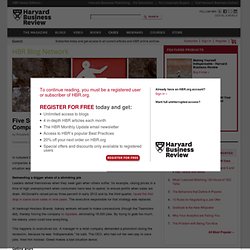 But too often people and companies exacerbate their troubles by their own actions. Self-defeating behaviors can make any situation worse. Put these five on the what-not-to-do list. 3 Interview Questions that Reveal Everything. Interviewing job candidates is tough, especially because some candidates are a lot better at interviewing than they are at working.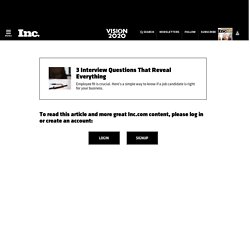 To get the core info you need about the candidates you interview, here's a simple but incredibly effective interview technique I learned from John Younger, the CEO of Accolo, a cloud recruiting solutions provider. (If you think you've conducted a lot of interviews, think again: Younger has interviewed thousands of people.) Here's how it works. Just start from the beginning of the candidate's work history and work your way through each subsequent job. Move quickly, and don't ask for detail. Job Interviews: 5 Questions Great Candidates Ask. Be honest.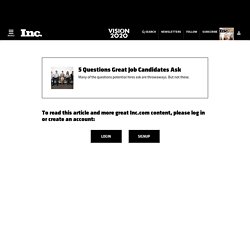 Raise your hand if you feel the part of the job interview where you ask the candidate, "Do you have any questions for me? " is almost always a waste of time. Thought so. The problem is most candidates don't actually care about your answers; they just hope to make themselves look good by asking "smart" questions. Why I Like People with Unconventional Resumes - Claudio Fernández-Aráoz. By Claudio Fernández-Aráoz | 8:00 AM July 2, 2012 Professional success used to depend on experience, knowledge, and skill.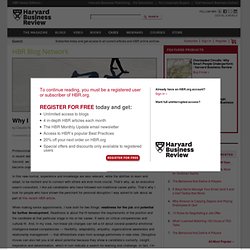 But things have changed in recent decades. First, knowledge has become as rapidly obsolete as universally available. Top 25 Oddball Interview Questions Of 2011. Over the past year, interview candidates just about everywhere shared some of the most difficult, or unexpected interview questions on Glassdoor, a jobs and career community.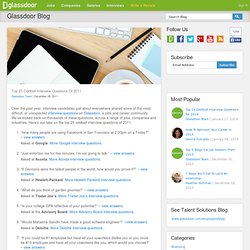 We've looked back on thousands of these questions, across a range of jobs, companies and industries. Here's our take on the top 25 oddball interview questions of 2011: Don't Let Your Job Search Depress You - Priscilla Claman. By Priscilla Claman | 9:59 AM March 13, 2012 If you are looking for a job right now, it is certain to take longer than you would like. The culprit is not just the recession — job boards have made it easier to apply, so now it's the norm that hundreds of resumes from across the world chase the same job. With that amount of activity, the job search has become more like a marathon than a sprint. Can Facebook Get You a Job? [INFOGRAPHIC] In answer to the question above, approximately 18,400,000 Americans say yes, they got their current job through Facebook.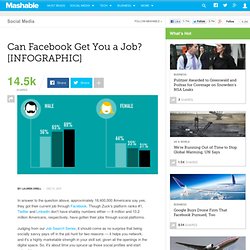 Though Zuck's platform ranks #1, Twitter and LinkedIn don't have shabby numbers either — 8 million and 10.2 million Americans, respectively, have gotten their jobs through social platforms. Judging from our Job Search Series, it should come as no surprise that being socially savvy pays off in the job hunt for two reasons — it helps you network, and it's a highly marketable strength in your skill set, given all the openings in the digital space.
So, it's about time you spruce up those social profiles and start networking. The infographic below combines data from Jobvite, CNN, LinkedIn and JobSearch to assemble a statistical picture of the modern-day job seeker. Check it out for interesting insights and some tricks of the trade to help you land a job. Facebook, LinkedIn, Twitter Factor In to How Job Recruiters Hire Candidates. By now, we've all heard about how employers scope out the Tweets and Facebook profiles of job seekers to winnow down the field of applicants. But job seekers may be surprised to hear just how many recruiters now use social media throughout the hiring process. Perhaps more surprising still, most recruiters are apparently checking for grammar and spelling on Facebook, Twitter, and LinkedIn.
A new survey released by Jobvite, a company that provides applicant tracking software, shows that 92% of employers are using or planning to use social networks for recruiting this year. This is up slightly from last year at 89%. Job interview? 4 sales tricks to sell yourself. Happy African American business man shaking hands with a colleague Courtesy of Geograph.co.uk Job interviews are a high-pressure sales call. The product? You -- or, more specifically, the skills and experience you can bring to a new job. To compete in today's job market, you have to have your sales pitch down cold. Here are 4 tricks to help you seal the deal from sales expert Ron Volper, Ph.D., author of the new book Up Your Sales in a Down Market.
Watch Out! Ten Interview Questions Designed To Trick You. Why Should I Hire You? - 85broads. Watch Out! Ten Interview Questions Designed To Trick You. Pay review advice for recruiters | Technojobs. Why Bother You can make your employees happy and ensure you aren't taken for a ride along the way. Whether the pay rise is accepted or rejected, you can make sure your employee continues to work hard after your decision has been made. Pay reviews give you the opportunity to reward and offer incentives.
---