Inspiration
What Would You Tell the 25 Year-Old You? 9 Daily Habits That Will Make You Happier. Happiness is the only true measure of personal success.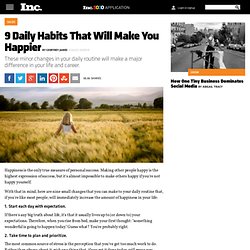 Making other people happy is the highest expression of success, but it's almost impossible to make others happy if you're not happy yourself. With that in mind, here are nine small changes that you can make to your daily routine that, if you're like most people, will immediately increase the amount of happiness in your life: True Secret to Success: Gratitude. I'm utterly convinced that the key to lifelong success is the regular exercise of a single emotional muscle: gratitude.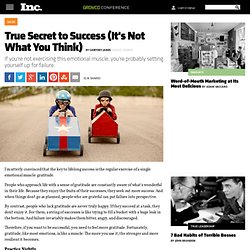 People who approach life with a sense of gratitude are constantly aware of what's wonderful in their life. Because they enjoy the fruits of their successes, they seek out more success. And when things don't go as planned, people who are grateful can put failure into perspective. By contrast, people who lack gratitude are never truly happy. 60 Ways To Make Life Simple Again. Email When we were young life was easier, right?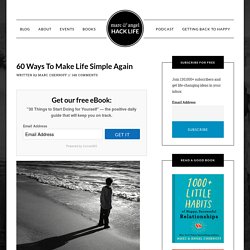 I know sometimes it seems that way. But the truth is life still is easy. It always will be. 30 Things to Stop Doing to Yourself. Post written by: Marc Chernoff Email When you stop chasing the wrong things you give the right things a chance to catch you.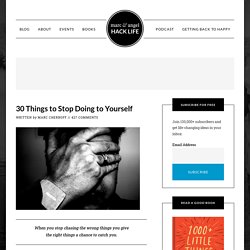 As Maria Robinson once said, "Nobody can go back and start a new beginning, but anyone can start today and make a new ending." Nothing could be closer to the truth. 30 Things to Stop Doing to Yourself. 50 Questions That Will Free Your Mind. Post written by: Marc Chernoff Email These questions have no right or wrong answers.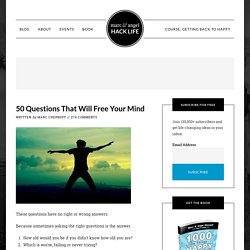 Top five regrets of the dying. A palliative nurse has recorded the top five regrets of the dying.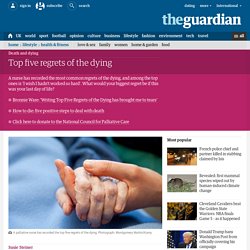 Photograph: Montgomery Martin/Alamy There was no mention of more sex or bungee jumps. A palliative nurse who has counselled the dying in their last days has revealed the most common regrets we have at the end of our lives. Nine Things Successful People Do Differently - Heidi Grant Halvorson. Learn more about the science of success with Heidi Grant Halvorson's HBR Single, based on this blog post.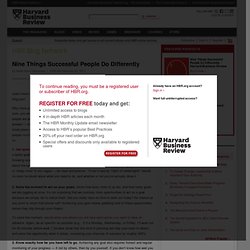 Why have you been so successful in reaching some of your goals, but not others? If you aren't sure, you are far from alone in your confusion. It turns out that even brilliant, highly accomplished people are pretty lousy when it comes to understanding why they succeed or fail. The intuitive answer — that you are born predisposed to certain talents and lacking in others — is really just one small piece of the puzzle. In fact, decades of research on achievement suggests that successful people reach their goals not simply because of who they are, but more often because of what they do. 60 Small Ways to Improve Your Life in the Next 100 Days. Contrary to popular belief, you don't have to make drastic changes in order to notice an improvement in the quality of your life.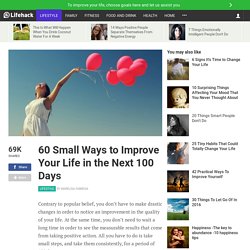 At the same time, you don't need to wait a long time in order to see the measurable results that come from taking positive action. All you have to do is take small steps, and take them consistently, for a period of 100 days. Below you'll find 60 small ways to improve all areas of your life in the next 100 days. Home. 20 Quotes For Getting Through Tough Times. 1.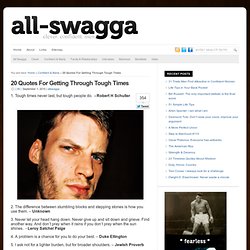 Tough times never last, but tough people do. - Robert H Schuller 2. 70 Reminders to Help You Break Any Barrier. I am pleased to introduce this guest article by a new friend John, the creator of HiLife2B, where he hopes to inspire people and to help them achieve their dreams.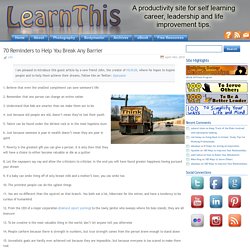 Follow him on Twitter: @janyasor 1. Believe that even the smallest compliment can save someone's life 2. Remember that one person can change an entire nation. 25 Things I Would Tell My Younger Self. Learn to be Still.. Posted by rd on Monday, January 23, 2012 · I love browsing thru quotes that I could ponder on at the start of the week and I'm glad to be sharing these with you. Here's a question: Have you ever tried doing everything at once? It's tiring isn't it? Fake it Till You Make it: 10 Ways to Feel Confident (Even When You Aren't) "Original Fake" Photo Credit: courtesy of MashKulture Is your self-confidence natural, or a daily struggle? Many people's confidence naturally wavers from day to day, leaving them too timid or confused at just the wrong time.
Whether you are naturally confident or could use some better eye contact with your life, setting in place a few simple strategies goes a long way to stoke your inner confidence. If you think you're not especially smart or capable, or that failure is a given no matter how hard you try, you're right. Simon Sinek: How great leaders inspire action | Video on TED.com - StumbleUpon. 8 Ways to be UBER Charismatic. What did JFK, Marilyn Monroe and Hitler all have in common? They were all renowned charismatics that lit up every room they entered. You've most likely met one of these kinds before. The guy/girl at the party.
They possess some strange quality that causes them to be liked by everyone and constantly at the center of attention. Their eyes and the way they carry themselves convey power and magnetism and you can't quite figure out why. 20 Quotes For Getting Through Tough Times. 110 best books: The perfect library. Thought Questions - Asking the right questions is the answer. 100 Ways To Develop Your Mind | Change your thoughts. 46 Must-Read Productivity Tips for Freelancers - FreelanceSwitch - The Freelance Blog. Envato Studio is an online marketplace for freelance services focused on design and web-development. Services range from designing a logo to WordPress customization, and all service providers have been reviewed and recommended by our expert review team.
If you were a user of the FreelanceSwitch Job Board (as either a freelancer or client) we recommend you check out Envato Studio. Also check out the Envato Studio Blog. This is now home to some of the content published on FreelanceSwitch (including the Freelance Freedom Comic) as well as fresh content that may be of interest.
---