Teaching
Paul's E-Learning Resources
Whether you're a new or seasoned Twitter user, you likely come across confusing hashtags that probably look like a bunch of nonsense. First, What's A Hashtag?
August 7, 2012 To all my educator colleagues: As you all know, I retired in June of 2011 from my school district job as Director of Technology.
Critical Evaluation Surveys and Resources
coremodel
The Smart Worker's Guide to Social Media
The revolution that is social media means that everyone now can have access to the Social Web and a range of services and applications to support their own as well as their team's learning, performance and productivity.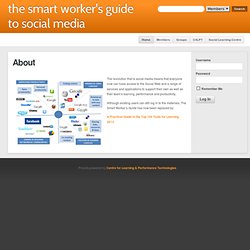 13 January 2012 The Computing in Schools project looked at the current provision of education in Computing in UK schools, informed by evidence gathered from individuals and organisations with an interest in computing. Interview with Professor Steve Furber FRS about the Computing in Schools report (4 mins).
Shut down or restart?
The Wordle of this list! (Click image to enlarge)
Online tools for teaching and learning (Web 2.0)
Our Space: Being a Responsible Citizen of the Digital World | The GoodWork Project
Online Activities for Literacy in Foundation Stage
Online tools for teaching and learning (Web 2.0)
Surfing the Net with Kids: Educational site reviews and kids games