Teaching
Digital Tools. Paul's E-Learning Resources. Free Technology for Teachers. The A-Z Dictionary of Educational Twitter Hashtags. Whether you're a new or seasoned Twitter user, you likely come across confusing hashtags that probably look like a bunch of nonsense.
First, What's A Hashtag? The # symbol, called a hashtag, is used to mark keyword or topic in a Tweet. Any Twitter user can categorize or follow topics with hashtags.Those hashtags (usually) mean something and are a great way to get a tweet to appear in search results or discussion monitoring. For example, the popular #edchat hashtag is used by thousands of users every Tuesday. It makes it easy (sort of) for people to monitor what's happening in the conversation rather than having to try and guess what topics you should search for. Ipad ideas. Official Mind Mapping software by Tony Buzan. The Smart Worker's Guide to Social Media. Shut down or restart?
13 January 2012 Interview with Professor Steve Furber FRS about the Computing in Schools report (4 mins) The Computing in Schools project looked at the current provision of education in Computing in UK schools, informed by evidence gathered from individuals and organisations with an interest in computing.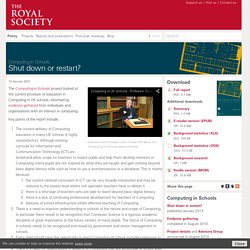 Screenr | Instant screencasts: Just click record. The 100 Best Web 2.0 Classroom Tools Chosen By You. The Wordle of this list!
(Click image to enlarge) One of the most popular posts on Edudemic in 2010 was The 35 Best Web 2.0 Classroom Tools Chosen By You and I felt it might be time for an update to that list for 2011. In order to put together a list of the best Web 2.0 classroom tools, I polled my Twitter followers, Facebook fans (are they still called fans? Likes?) And ran a contest to try and get as many submissions as possible. Online tools for teaching and learning (Web 2.0) Our Space: Being a Responsible Citizen of the Digital World | The GoodWork Project.
Re-Inventing the Wheel in the Study of Human Character Date posted: April 2, 2014 James Heckman, Nobel Prize winning economist, has just published a 435 page collection called The Myth of Achievement Tests.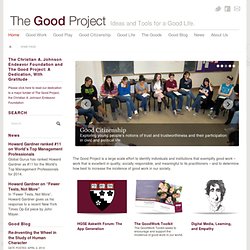 On the surface it is a well-documented critique of the GED (General Educational Development) examination. But as one leafs through the volume, it turns out to be a 400+ page hymn-of-praise to character education. Heckman and his three co-editors see the development of character as at least as important as IQ/SAT measures, if not more so. Online Activities for Literacy in Foundation Stage. Online tools for teaching and learning (Web 2.0) Teaching strategies.
Surfing the Net with Kids: Educational site reviews and kids games.
---